"Who Dat!?" It's the New Orleans Saints Extra Points Credit Card! With this card, you can express your enthusiasm for the Saints, save on NFL store purchases, and earn extra rewards on certain NFL-related purchases, all with no annual fee! The APR for this card is not the greatest, at either 15.24%, 20.24% or 25.24%% (depending on your creditworthiness), however, if you qualify for a 15.24% APR, it's definitely worth considering due to the generous rewards program this card provides (APR is subject to change). When you use this card to buy NFL tickets, make NFL Store purchases, or spend on NFL TV packages, you get 2 reward points for every dollar spent. On all other purchases, you get 1 point per dollar spent. As a signup bonus, you will receive 10,000 points after your first $500 of card purchases made within the first 90 days of your account opening. Applying for this card online can be done in a matter of minutes; if you need assistance through the process, you can follow the step-by-step tutorial that we have written below.
Before you continue, take a look at the online privacy policy for Barclaycard, the card-issuing company.
Requirements
To be eligible for this credit card, applicants must meet the following criteria:
Be 18 years of age or older
Have a valid US address
Have a valid US SSN
How to Apply
Step 1 –  To get started, go to the NFL Extra Points page and click the Apply Now link.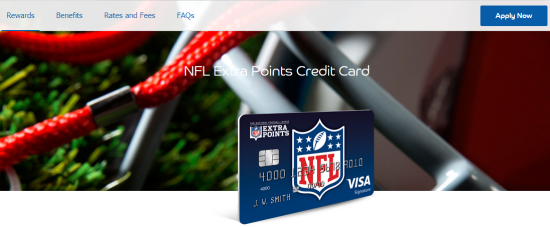 Step 2 – Now, on the page pictured below, select New Orleans Saints from the drop-down menu, and click Apply Now.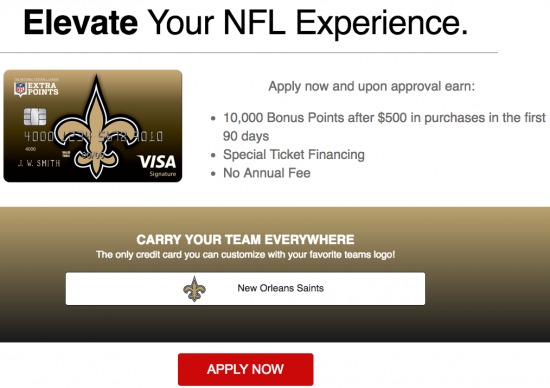 Step 3 -You should now be looking at the application form. Input the following information as detailed in the application:
Name
Permanent address
Time at permanent address
Residence status

Step 4 – Next, indicate your Occupation by selecting it from the pull-down menu, enter your Total Annual Income, and select your bank account type(s) from the menu labeled Do you have a:(opt.). You must also indicate whether you would like to have your card express delivered by selecting Yes or No. 

Step 5 – In the section seen in the below example, provide these pieces of information:
Primary phone number
Work phone number (optional)
Email address
Citizenship

Step 6 – At this point, you will need to provide some Security Information. Enter your Date of Birth, Social Security Number, and Mother's Maiden Name in the indicated fields.

Step 7 –  If you would like to receive your bank statements electronically, review the disclosures document and check both boxes in the Paperless Statements section. You can also choose to perform Balance Transfers to consolidate your previous balances into a single bill.

Step 8 – This is the last step! Review the terms and conditions for this credit card to ensure that you are comfortable with what they entail and click Apply.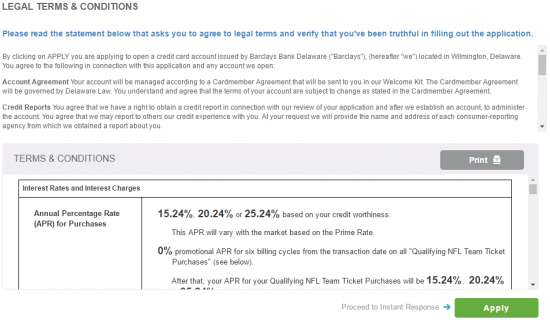 If you have correctly followed all 8 steps of this tutorial, you should receive an immediate confirmation from Barclaycard regarding your application. We wish you the best of luck, and hope that our tutorial has been of service to you in assisting the completion of your online application.