Applying for the Dallas Cowboys Extra Points Credit Card is an uncomplicated process that can be accomplished in a matter of minutes. By following the instructions found on this webpage, you will learn exactly what information is required in order to put yourself in position to acquire this card, apart from having a good to excellent credit rating. However, before you apply, it would wise to look into some of the features that this credit option has to incentivize prospective cardholders. If you're approved, you will receive an introductory 0% APR for 15 months on balance transfers and a 0% APR for 6 months of qualifying NFL purchases. There is a point based rewards program which earns cardholders 2 points for each $1 spent on NFL/team products, game tickets, in-stadium purchases, or merchandise at one of the many pro shops. You would also receive 1 point for every $1 spent on all other purchases. The interest rate will be set at either 15.24%, 20.24% or 25.24%, depending on your creditworthiness (APR is subject to change). If you investigate further, you will find that there are other cards on the market that may better suit your needs. With that being said, if you're a football fan who'd like to save on tickets or NFL products, the Dallas Cowboys Extra Points Credit Card might be the right choice for you. Scroll down to learn how to apply.
Take a moment to read over the privacy policy to get a full understanding of how Barclaycard will be using your personal information.
Requirements
The following requirements must be met in order to be eligible for this card:
You are at least 18 years of age
You reside in one of the approved US states
You have a valid SSN
How to Login
Step 1- Start by navigating to the Barclaycard application page. On the right hand side of your screen, select the blue Apply Now tab to proceed.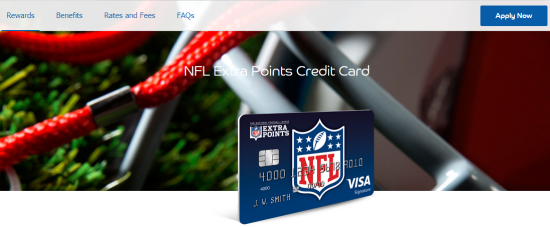 Step 2- Click on the drop-down menu located under Carry Your Team Everywhere and a list of every NFL team will present itself. Select Dallas Cowboys from the list of available options and click Apply Now to proceed.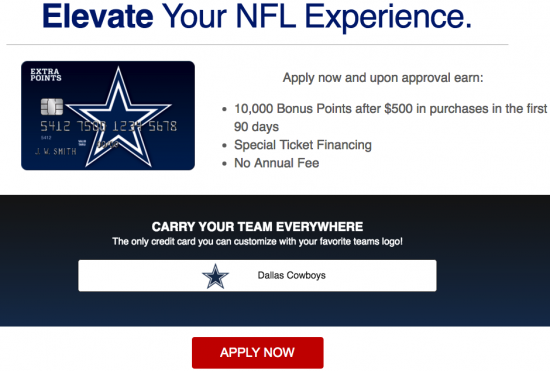 Step 3- Here, some basic personal information will be required. Enter-in your First Name, Last Name, Permanent Address (City, State, Zip), the Time at Permanent Address, and your Residence Status.

Step 4- Regarding your Employment and Financial Information, provide your Occupation and your Total Annal Income. Just below that, select Yes or No to indicate whether or not you would like the delivery of your card expedited for an additional $15.

Some additional information will be required if you answered Student as your occupation. The following details must be specified.
Class year
School address (street, city, state, zip)
School state
Materials will be sent to? (permanent address or address at school)
School name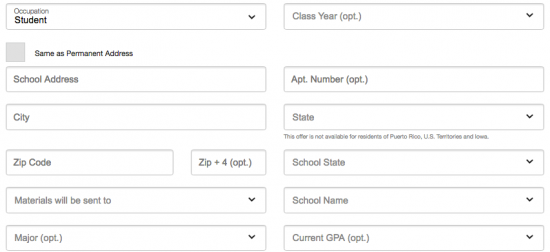 Step 5- Continue by providing your Primary phone (number), your Email address, and select Yes or No to specify whether or not you are a US citizen.

Step 6- For security purposes, supply your Date of Birth, your Social Security Number and your Mother's Maiden Name.

Step 7- To receive your bank statements electronically, review the disclosure and check each of the boxes below the Paperless Statements window. If you wish, you may consolidate your previous balances by performing a balance transfer.

Step 8- At this juncture, you will be able to review the terms and conditions for this credit card. Read them over carefully before clicking Apply to submit your application in for review by Barclaycard. You should receive instant confirmation regarding the acceptance of your card request.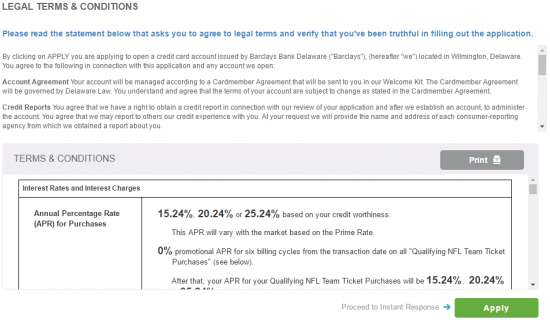 Thank you for choosing Card Reviews as your credit card expert. We hope you found this tutorial helpful in your attempt to apply for the Dallas Cowboys Extra Points Credit Card. Best of luck!