The Carolina Panthers Extra Points Credit Card is a great credit option for the Panthers enthusiast, or any NFL fan for that matter. This card is nearly identical to the other available NFL credit cards save for the image displayed on the front. There is no annual fee that must be paid to maintain this card and you can expect your interest rate to be set at either 15.24%, 20.24%, or 25.24%, depending on your creditworthiness (APR is subject to change). What makes this card a worthy selection is the points rewards program; you can earn 2 points per $1 spent on qualifying NFL purchases and 1 point per $1 spent on everything else. These points can be redeemed for VIP NFL experiences, game tickets, or put towards cash back (2,500 points=$25). If you're interested in applying for the Carolina Panthers Extra Points Credit Card, scroll down and review our tutorial below.
Barclaycard is the bank which has issued this credit card. Be sure to read over their privacy policy before submitting any sensitive information into their online portal.
Requirements
You must meet the following requirements in order to be eligible for this card:
You are at least 18 years of age
You reside in one of the approved US states
You have a valid SSN
How to Apply
Step 1- Start by navigating here to access the Barclaycard online portal. Once accessed, click on the blue Apply Now tab to proceed.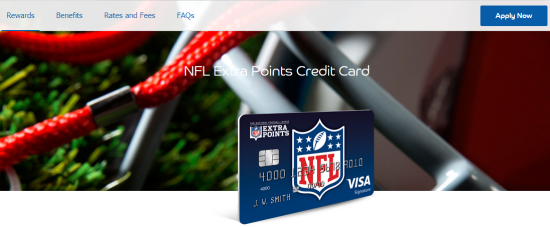 Step 2- Locate the Carry Your Team Anywhere heading and, using the drop-down menu, select Carolina Panthers from the list of teams. Proceed by clicking Apply Now.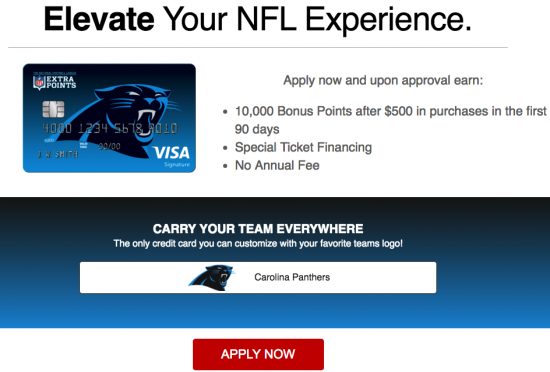 Step 3- Under General Information, the following personal data must be supplied:
First and last name
Address (street, city, state, zip)
Years/months you've lived at your address
Residence status (own, rent, other)

Step 4– Next, use the drop-down menu to indicate your current Occupation. Continue by supplying your Total Annual Income and select Yes or No to specify whether or not you'd like to expedite the delivery of your card for an additional $15. If you are a student, scroll down to the next segment of this step to supply some additional information.

If you are currently a student, Barclaycard asks that you supply some information concerning your studies. The following details must be specified:
Class year
School address (street, city, state, zip)
School state
Materials will be sent to? (permanent address or address at school)
School name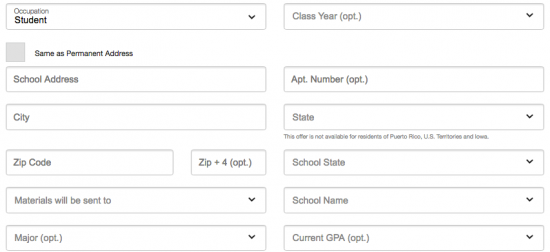 Step 5– Here you must provide your Primary phone contact number and your Email address. Specify as to whether or not you are a citizen of the United States by selecting Yes or No.

Step 6– Some security information is required at this juncture. Supply your Date of Birth, your Social Security Number, and your Mother's Maiden Name.

Step 7– If you would like to receive your bank statements electronically, read over this disclosure and check each of the boxes underneath the Paperless Statements heading. Just below that, select Click here if you would like to perform a balance transfer to consolidate your previous credit balances.

Step 8- Read through the terms and conditions for this credit card before clicking Apply Now. Once this step, and each of the above steps, have been completed, your application will officially be sent in to be reviewed by Barclaycard.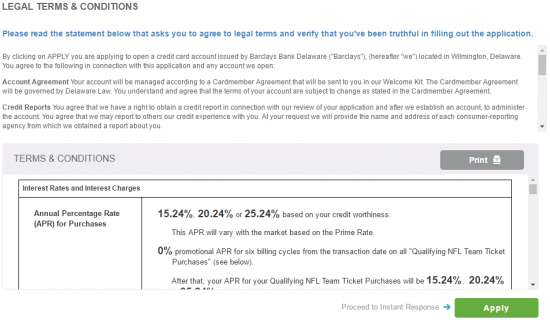 Our experts here at Card Reviews have gathered as much information as possible to alleviate any confusion you may have experienced when taking on the application procedure alone. We hope you found our guide useful and we wish you the very best with your new credit card!