If you're a Cincinnati Bengals fan, you can take your fandom to the next level by applying for the Cincinnati Bengals Extra Points Credit Card. Imagine pulling into the gas station and flashing your credit card with that beautiful orange and black Bengal's "B" shown right on the front. Not only are you supporting your team, but by making purchases, you're also racking up rewards points that can be put towards tickets for the next big game. Here's how the point system works; you earn 1 point for each $1 spent on everyday purchases and 2 points for each $1 spent on qualifying NFL purchases. When you have enough points saved, you can redeem them for VIP NFL experiences, game tickets, or even cash back when you hit the 2,500 point mark. On top of everything, an additional 10,000 bonus points can be earned when you spend $500 within the first 90 days. The rates for this card are fairly standard and they will be based on your credit worthiness. The purchase APR for for this credit card is fairly standard, either 15.24%, 20.24% or 25.24%, depending solely on your creditworthiness (APR is subject to change). While other credit cards on the market may offer better interest rates, the Cincinnati Bengals Extra Points Credit Card is a must for the die hard fan. To learn how to apply, scroll down to our tutorial below.
Be sure to go over the online privacy policy to learn exactly how Barclaycard will be using your personal information.
Requirements
Before proceeding, make sure that you meet the following requirements:
You are at least 18 years of age
You reside in one of the approved US states
You have a valid SSN
How to Apply
Step 1- Begin the application process by navigating to this webpage. You should see the Apply Now tab on the right hand side of your screen which you'll need to select in order to proceed.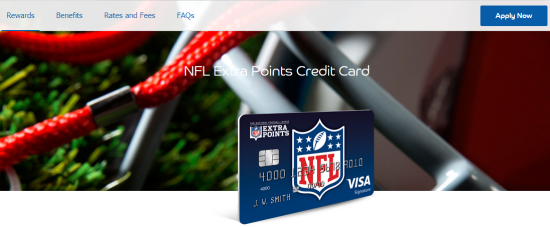 Step 2- Here, under the Carry Your Team Everywhere heading, use the drop-down menu and select Cincinnati Bengals from the list of available options. Once chosen, continue by clicking Apply Now.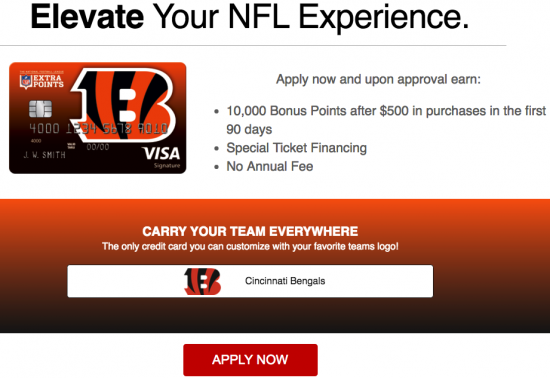 Step 3- Some basic personal information must be specified at this point in the application procedure. The exact data that's asked of you is as follows:
Name
Permanent address
Time at permanent address
Residence status

Step 4- In regards to your Employment and Financial Information, specify your Occupation and your Total Annual Income. Select Yes or No to indicate whether or not you'd like your credit card express delivered to your address for an additional $15. If you are currently a student, scroll down and finish filling-in the last bit of information before proceeding.

Students must provide some additional details regarding their school's name and address. The following data must be provided:
Class year
School address (street, city, state, zip)
School state
Materials will be sent to? (permanent address or address at school)
School name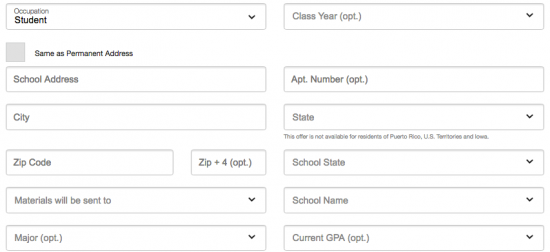 Step 5- In the blank fields, provide your Primary phone number and your Email address. Complete this step by selecting Yes or No to specify whether or not you are a US citizen.

Step 6- Here you must provide some security information. Enter-in your Date of Birth, your Social Security Number and your Mother's Maiden Name.

Step 7- Should you wish to receive your bank statements electronically, there are two boxes that must be checked. The first states your desire to receive paperless statements. The second box is used to indicate your understanding of the statement disclosure (review the disclosure here). You may also perform a balance transfer to consolidate your previous balances into one bill.

Step 8- Be sure to read over the terms and conditions for this credit card before proceeding. If you are in compliance with Barclaycard's conditions, click Apply to finalize the application process. On the following page, Barclaycard will provide you with their verdict on whether or not you have been accepted for this credit card.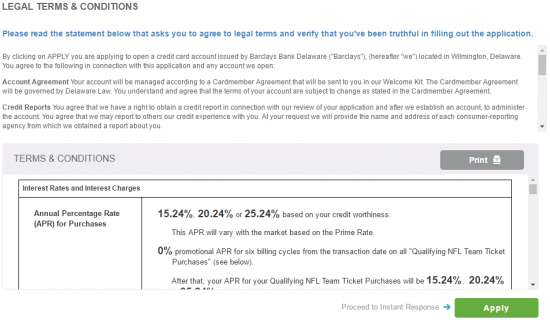 Way to go on making it through the application process. We hope that you didn't find anything to confusion as you navigated through Barclaycard's online portal. Best of luck and happy banking!