If you're a fan of the Philadelphia Eagles, and you're constantly buying tickets, spending money at the games and purchasing merchandise at the pro shops, you'd be wise to look into the Philadelphia Eagles Extra Points Credit Card. This card earns users 2 points for every $1 spent on the types of purchases mentioned above and 1 point for every $1 spent everywhere else. No matter what you're buying, you're earning points to go towards game tickets, gift cards and exclusive NFL experiences. Alternatively, you can request for cash back if that suits you better. You also receive 20% off at Eagles pro shops and online store and 10,000 bonus points if you spend $500 within the first 90 days of opening the account. Although this card has no annual fee, the interest rates can be very high. People with a bad credit score could be seeing an APR of 20.24% or, if the credit score is low enough, one could be looking at a rate as high as 25.24% (APR is subject to change). If you're confident your creditworthiness is up to par, you might be offered an APR as low as 15.24%, which is a lot closer to the average rate. If you believe the pros of this card outweigh the cons, follow our tutorial below to learn how to apply for the Philadelphia Eagles Extra Points Credit Card.
Read through the privacy policy provided by Barclays Bank Delaware (the card-issuing company) to inform yourself on their sharing policies.
Requirements
To be eligible for this credit card, applicants must meet the following criteria:
Be 18 years of age or older
Have a valid US address
Have a valid social security number
How to Apply
Step 1 – To apply for the Philadelphia Eagles Extra Points Credit Card you need to navigate to the NFL Extra Points page on the Barclaycard website. Near the top of this page is the Apply Now button, click it to continue.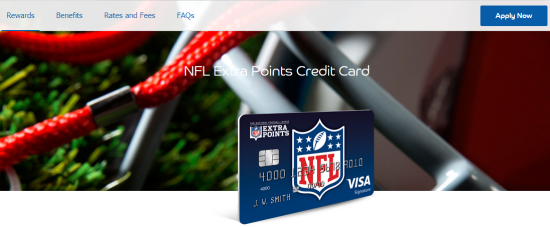 Step 2 – Next, you need to select the Philadelphia Eagles from the drop down menu at the bottom, and then click Apply Now.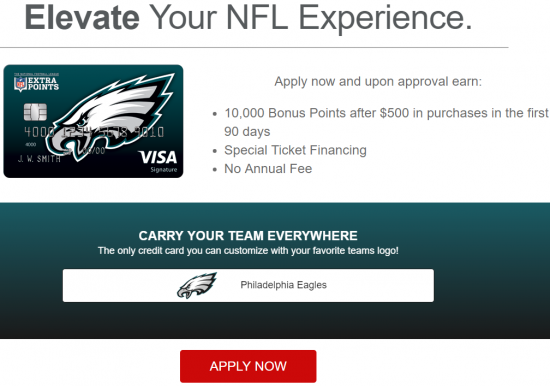 Step 3 – A new page will open and an online application form will present itself to you. The first section asks for the following information:
Name
Permanent address
Time at permanent address
Residence status

Step 4 – In the next section, you'll need to enter your Occupation and Total Annual Income. If you would like to have your card delivered quicker, you can pay $15 for express shipping. Tick the box next to Yes, if you'd like to opt for express shipping, or No if you would not.

Step 5 – You are required to supply your phone number and email address in the Contact Information section; then you must proclaim your citizenship. If you are not a citizen of the US, enter your country of citizenship.

Step 6 – At this juncture, you must provide your Date of Birth, Social Security Number and Mother's Maiden Name.

Step 7 – They give you the option to receive paperless statements, should you want to receive your statements electronically. Tick the box next to Yes, I want to receive Paperless Statements. Next, tick the box below that to declare that you have read the disclosures that apply to receiving your statements online. At this point in time, you have the option to make a balance transfer. Click the link, as shown below, and enter the information accordingly should you wish to consolidate your debt onto this card.

Step 8 – Finally, read the terms and conditions and click Apply should you agree to them. Barclaycard provides an instant response to your application so you will know whether you are approved or not on the following page. We wish you the best of luck and hope these instructions made it easier to complete this application process.