Nothing is quite as thrilling as hearing 70,000 people cheering for the Bolts as they rush the field to take on the opposing team. Charger fans are a proud and strong people, willing to fight for their honor. Why not extend that support to your wallet? The San Diego Chargers Extra Points Credit Card is a card that boasts a great rewards program that could help you fulfill that NFL experience you've always dreamed of. This card, like most rewards cards, offers 1 point per $1 spent on everyday purchases. It also awards users 2 points per $1 spent on NFL related purchases, like tickets, in-stadium purchases, online and in-store proshop purchases and NFL DirecTV. Once these points are collected, you can redeem them for tickets, gift cards, NFL experiences or even as cash back (to go towards one of your checking or savings accounts). As an added bonus, you will receive 10,000 bonus points just for spending your first $500 (as long as the purchases are made within 90 days). The San Diego Chargers Extra Points Credit Card has a lot going for it. One thing to look out for is the interest rate. You could be looking at an APR as high as 25.49%, which is definitely more than most people should be paying. If you have a really good credit score you might be seeing an APR as low as 15.49%, which is a much more reasonable percentage. If the San Diego Chargers Extra Points Visa Credit Card is exactly what you're looking for in a card, why not apply today? We have created a tutorial below so you can easily navigate through the application process.
Read through the privacy policy provided by Barclays Bank Delaware (the card-issuing company) to inform yourself on their information sharing policy.
Requiremnts
Before you apply, review the list of requirements below to ensure that you are eligible:
Applicants must be a minimum 18 years of age
Applicants must have a valid US address
Applicants must have a valid social security number
How to Apply
Step 1 – To begin the application process, you'll have to get to the Barclaycard NFL Extra Points homepage. There is an Apply Now button near the top of the page. Click the button to proceed to the next step.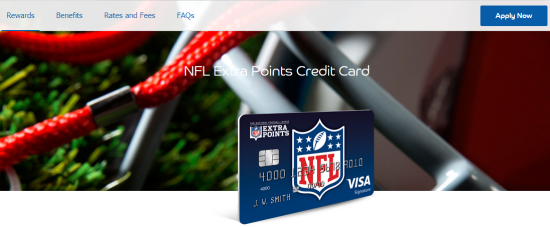 Step 2 – At this juncture, you are expected to select a team to customize your card. Click the drop down menu and select the San Diego Chargers. The Apply Now button turns red once you've selected your team and you can now click on it to continue.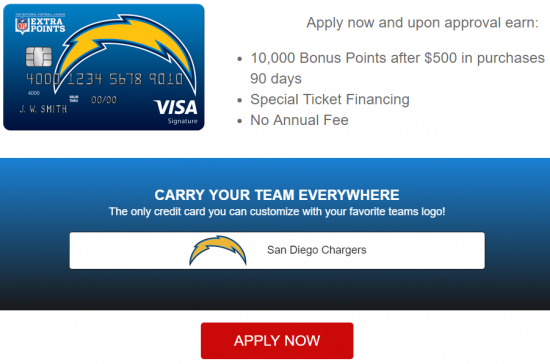 Step 3 – The application form starts with you providing the following personal information:
Name
Permanent address
Time at permanent address
Residence status

Step 4 – Barclays Bank Delaware demands a few pieces of financial information to verify your eligibility. Provide your Occupation and Total Annual Income. You also have the option of providing a checking or savings account. If you would like your card delivered faster, you can select Yes to the express delivery option.

Step 5 – Some contact information is required at this step. Enter your Primary phone number and Email address. You must also declare if you are a US Citizen or not. If you aren't, provide your country of citizenship.

Step 6 – The next section is used to confirm your identity. You need to supply the bank with your Date of Birth, Social Security Number and Mother's Maiden Name.

Step 7 – This section is optional. You are given the chance to sign up for paperless statements and/or make a balance transfer. You may skip this step if neither situation applies to you. If you would like to opt in for paperless statements, tick the first box. You must read the disclosures provided, then tick the second box as well.
For a balance transfer click on the link in that box, as shown below, and enter all the information they ask of you.

Step 8 – The last step for you is to read the terms and conditions before clicking Apply. You will know right away if you are approved or not, as Barclaycard provides instant responses to applications. We trust your application will be a success and we hope our instructions were helpful.