There's no denying that Pittsburgh Steelers fans are some of the most loyal and devoted in the National Football League. The Steelers are the oldest franchise in the AFC and they have one of the longest active consecutive sellout streaks in league history. This says a lot about the fans, the proud, hard-working people who love their football and cheer for their players whether they're in the stands or watching on TV. Another way to show your're a part of Steeler nation is by applying for the Pittsburgh Steelers Extra Points Credit Card. With this card you will be earning rewards points every time you shop. If you make purchases on NFL DirecTV, NFL tickets, in stadium or at a proshop you will be earning 2 points per $1 spent. You also earn 10,000 bonus points once you make $500 in purchases (within the first 90 days). These points can be redeemed for NFL gift cards, tickets, exclusive NFL experiences or even cash back into one of your checking or savings accounts. As an added bonus, cardmembers receive a 20% discount when shopping at NFLShop.com or Steelers Sideline stores. If you're a true Pittsburgh Steelers fan, this card should pique your interest. But first, take a look at the interest rate (and your own credit score) to see if it's the right fit for you. If you have excellent credit score, you will be seeing a fairly average APR of 15.24%. Those of you struggling with your credit score could be seeing rates of 20.24% or even one as high as 25.24% (APR is subject to change). It might be smart to look into other credit cards with similar benefits and a lower APR. However, if you want to flash the yellow, red and blue stars of the Steelers logo, we've got you covered; you'll find instructions below on how to apply for your Pittsburgh Steelers Extra Points Credit Card today.
It would be in your best interest to read through the privacy policy provided by Barclays Bank Delaware (the card-issuing company) to learn how they will share your information.
Requirements
To be eligible for this credit card, applicants must meet the following criteria:
Be 18 years of age or older
Have a valid US address
Have a valid social security number
How to Apply
Step 1 – To begin the application process, follow this link to the Barclaycard NFL Extra Points Credit Card homepage. Near the top of the page is an Apply Now button; click on it to continue.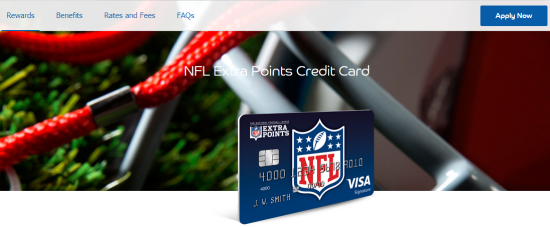 Step 2 – Next, you need to select the Pittsburgh Steelers from the drop down menu found near the bottom of the page. Click Apply Now once your team is selected.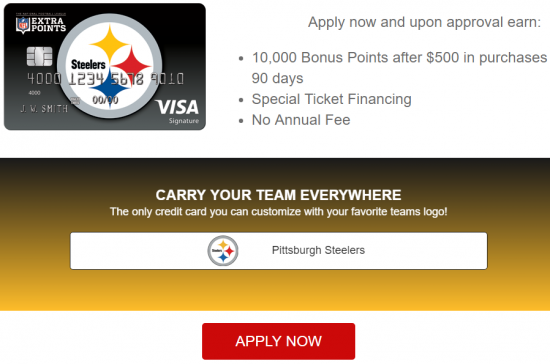 Step 3 – Now begin filling in the application form. First provide the following personal information:
Name
Permanent address
Time at permanent address
Residence status

Step 4 – After that, they ask you to select your current occupation as well as your total annual income. They also give you the option to get your card delivered express at $15 per card. Select Yes or No.

Step 5 – Here you'll need to enter your primary phone, work phone (optional) and email address. They also ask if you are a United States Citizen. Select Yes if you are, select No if you are not, and provide your country of citizenship.

Step 6 – To verify your identity, you must provide your Date of Birth, Social Security Number and Mother's Maiden Name.

Step 7 – At this juncture you can opt for paperless statements. This is a handy feature as you can manage all your statements online instead of dealing with heaps of paper. Select the box next to Yes, I want to receieve Paperless Statements if you wish to opt in. The box below that must also be ticked, to confirm that you have read the paperless statement disclosures. You may also choose to make a balance transfer at this point in time. If applicable, click the link next to add a balance transfer, and enter the information necessary to complete the transfer.

Step 8 – The last step will ask you to read the terms and conditions before clicking Apply. Barclaycard will provide you with an instant response on a secondary page and we sincerely hope it is a positive one. Best of luck!