As far as business rewards credit cards go, the Bank of Edwardsville Visa Business Bonus Rewards/Rewards PLUS Credit Card is quite ordinary. This card comes with a simple rewards program wherein cardholders earn a point for every $1 they spend. The Bonus Rewards PLUS card offers a 50% bonus on all points you earn every month whereas the Bonus Rewards card offers 25%. As an added bonus, $50 cash back will be awarded after your first purchase for Bonus Rewards PLUS cardholders and a $25 cash back can be expected for Bonus Rewards cardholders. There is no limit to the points you can earn but they do expire after 5 years. One drawback of the Bonus Rewards PLUS card is there is a $50 annual fee attached to the card, compared to $0 annually for the regular Bonus Rewards. After a fairly standard interest-free introductory period, cardholders will be assigned an APR based on their creditworthiness which ranges from what we would consider attractive to what could be universally defined as dangerous and avoidable. Be sure to check into your credit score prior to application. Many other business credit cards offer superior rewards programs with lower interest rates, so it's wise to compare credit cards before making your decision. After all, you're trying to run your business as efficiently as possible. If you feel the Bank of Edwardsville Visa Business Bonus Rewards/Rewards PLUS Credit Card is the right fit for your company, follow our tutorial below to learn how to apply for this card today.
Before submitting any information about you or your business, make sure to read through Elan Financial Services' (EFS) privacy policy.
Requirements
To be eligible for this particular card, you must meet the following criteria:
Applicants must be 18 years of age or older
Applicants must have a valid US address
Applicants must have a valid Social Security number
Applicants must have a valid Business Tax ID number
How to Apply
Step 1 – Follow this link to get to the Bank of Edwardsville credit card page within the EFS web portal. Scroll down to Business Credit Cards and click Apply Now below the credit card you wish to apply for today.
Step 2 – Begin filling out the application form, starting with the following information concerning your business:
Business name to appear on cards
Name of business
Business Tax ID#
Physical address
Years at address
Year business started
Business phone number
Nature of business
Type of industry
Country of formation
Number of countries with offices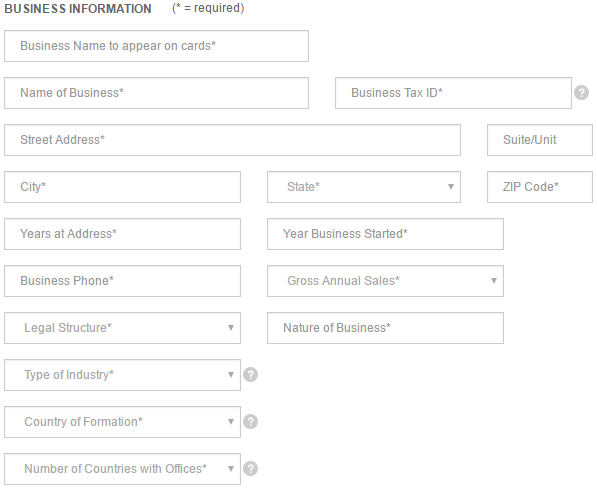 Step 3 – The last part of the Business Information section asks that you provide information on any bank accounts you have open with the Bank of Edwardsville. Select YES next to any existing bank accounts and provide the necessary information for each account.

Step 4 – As the business owner, you are required to submit the following information about yourself:
Business owner type
Full name
Social Security number
Date of birth
Phone number
Email address
Physical address
Annual income
Ownership percentage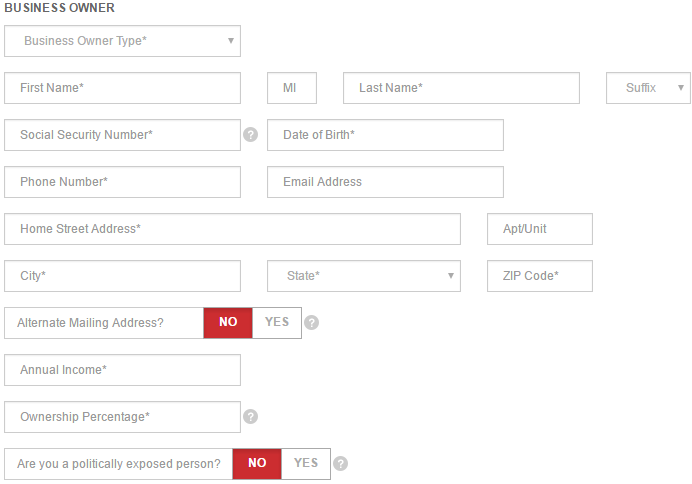 Step 5 – This step provides options for making a balance transfer, adding beneficial owners to the account, and opting for employee cards. First, if you wish to make a balance transfer, select YES and enter the transfer amount. Next, if there are any owners who have a 25% (or greater) stake in the company, select YES and provide each person's information. Lastly, if you would like any of your employees to receive credit cards attached to this account, select YES and enter the names of up to 10 employees.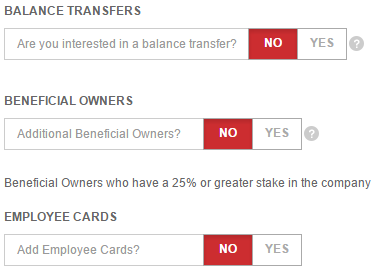 Step 6 – The last step involves you reading the terms and conditions and agreeing to them by ticking the box next to I accept the Terms and Conditions. Click SUBMIT to send your application in for review.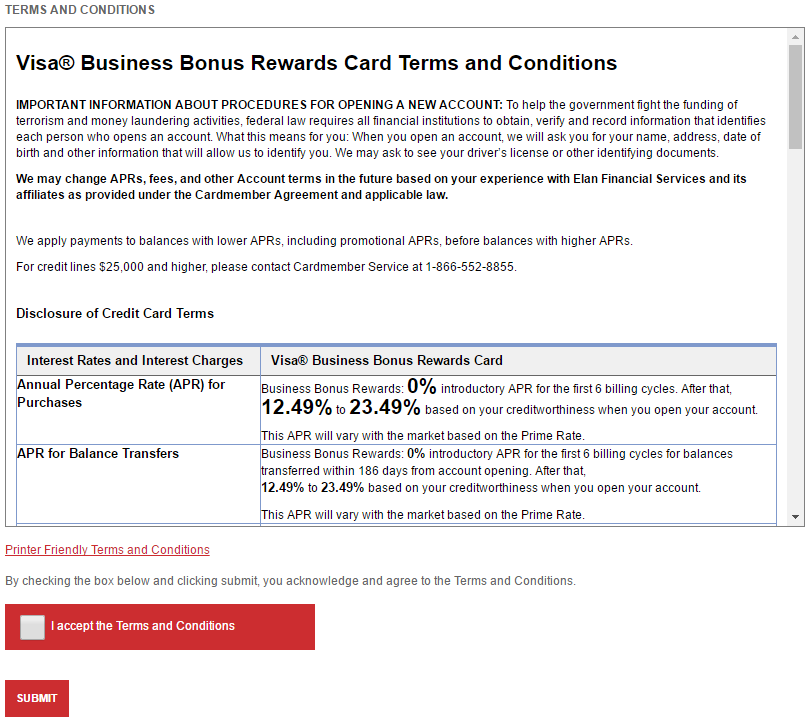 Congratulations! You have successfully applied for the Bank of Edwardsville Visa Business Bonus Rewards/Rewards PLUS Credit Card. We hope these instructions were easy to follow and we hope your application is approved.