The Bank of Edwardsville Visa Bonus Rewards Credit Card and Bank of Edwardsville Visa Bonus Rewards PLUS Credit Card are very standard rewards credit cards. While they offer the most basic of rewards programs at 1 point per $1 spent, other credit cards often offer increased rewards point opportunities through other purchasing categories. However, these cards do offer an automatic bonus on all points earned every month; the Bonus Rewards card offers 25% bonus on points while the Bonus Rewards PLUS offers 50%. As an added reward users will receive $25 (Bonus Rewards card) or $50 (Bonus Rewards PLUS card) cash back with their first purchase. Cardholders will enjoy a 0% introductory APR period, but after the first 6 billing periods the interest rate will increase. These cards come with the same run-of-the-mill APR that one would expect from a rewards card of this variety, so don't apply to this one expecting to save on interest. The best part about the Bonus Rewards PLUS is that you have a better chance of acquiring points, but it comes with a $50 (per year) price tag. The Bonus Rewards card has no annual fee attached to it but obviously comes with less point-earning opportunities. If you're interest in either of these rewards cards, apply for one today by following our short tutorial below.
Before supplying any personal or financial information into the application form, read through Elan Financial Services' (the card-issuing company) privacy policy.
Requirements
To be eligible for this particular card, you must meet the following criteria:
Applicants must be 18 years of age or older
Applicants must have a valid US address
Applicants must have a valid Social Security number
How to Apply
Step 1 – To begin the application process, follow this link to get to the Bank of Edwardsville credit card page on the EFS web portal. The first section, Consumer Credit Cards, includes the Bank of Edwardsville Visa Bonus Rewards/Rewards PLUS Credit Card. Select the card you wish to apply for today by clicking Apply Now.

Step 2 – Start filling out the application form by entering the following information in the fields provided:
Full name
Date of birth
Social Security number
Country of citizenship
Country of permanent residence
Phone number
Email address (optional)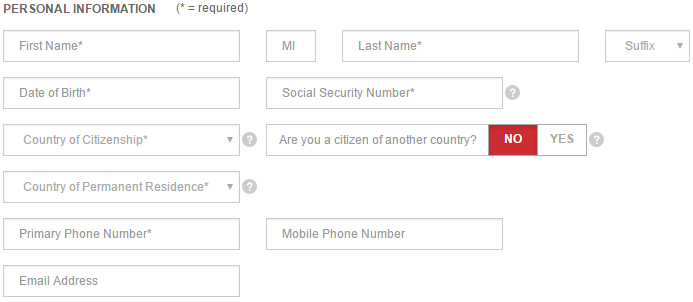 Step 3 – Next, you are required to provide information on your current living situation. Enter your Address, Time at Address, Housing Status, and Monthly Payment to proceed.

Step 4 – Under Income and Employment Information, provide your Employment Status, Employer, Occupation and Annual Income. After that, select YES next to any accounts you currently have open with the Bank of Edwardsville and enter the necessary information for each account.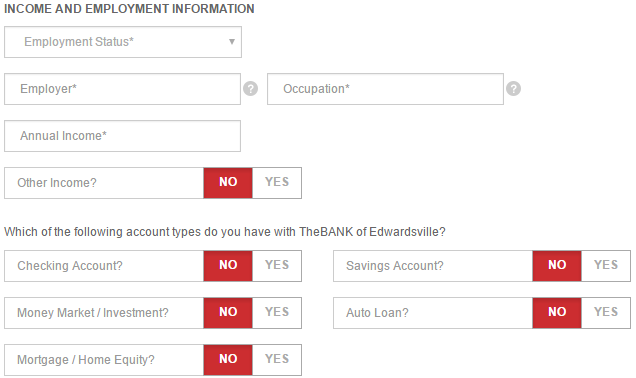 Step 5 – This step provides you with the opportunity to make a balance transfer, add a joint applicant, or acquire additional cards. To make a balance transfer, select YES and provide the amount of the transfer. If you'd like to add an applicant to the form (meaning they will also be responsible for payments to the account), select YES next to Joint Applicant? and provide that person's information. And lastly, if you would like to have additional cards attached to the account (where the cardholder can purchase but will not be responsible for payments), select YES next to Add Authorized User? and provide that person's information.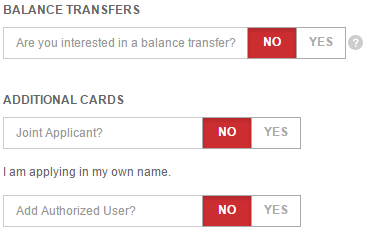 Step 6 – The last step asks that you read through the terms and conditions before agreeing to them by ticking the box next to I accept the Terms and Conditions. Click SUBMIT once you have completed the application form.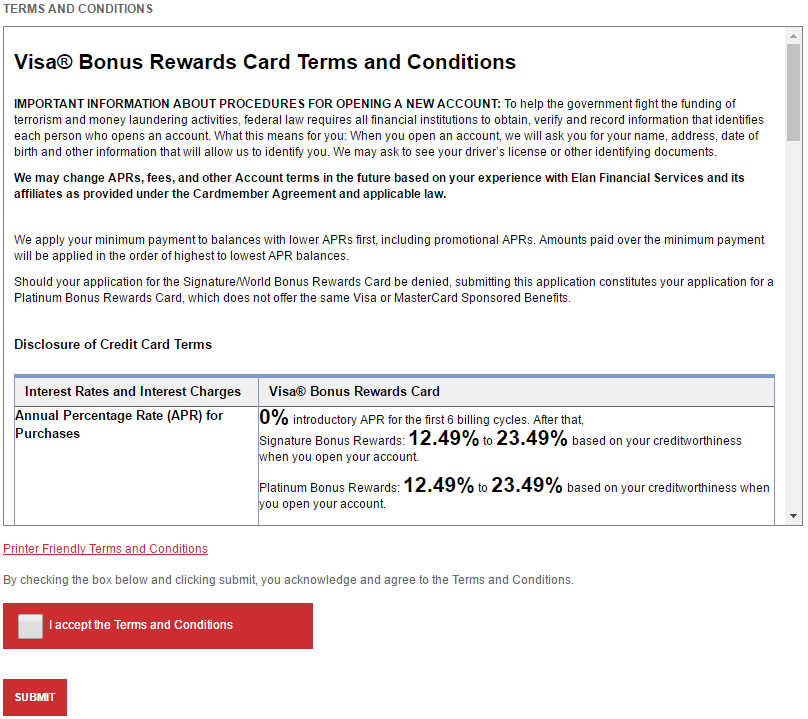 Congratulations! Your application has been submitted and you need only wait for a response from Elan Financial Services. We hope these instructions were helpful and trust that your application will be approved. Good luck!