Account-holding individuals already associated with Bank of Hawaii (BoH) may be interested in their rewards-back Bank of Hawaii Amex Credit Card. The in-house rewards program (a respectable 1 point/$1, 20% annual point-match, 1,000 point signup reward) along with a decent APR spread help to make this card a viable option for many. If you are interested in applying but are unsure of where to begin please scroll down to find our official step-by-step guide.
Before embarking on an application please review the BoH online privacy policy.
Requirements
All applicants must:
Be at least eighteen (18) years of age
Have a valid US SSN
How to Apply
To access the secure application you must navigate to the BoH card summary page and select apply online.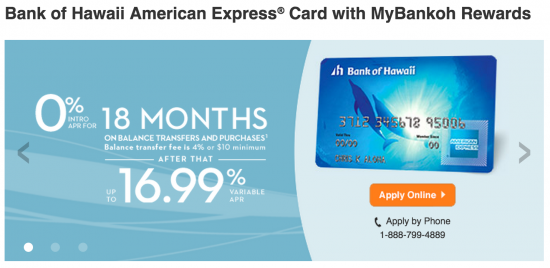 Step 1- Personal Information
Now you must enter the following information into the forms provided:
Full Name
Address
Time at Address
Housing Status
Occupation
Total Annual Income
Bank Accounts Held
Cah Advance Preferences
Phone Number
Email Address
Citizenship Status
Date of Birth
SSN
Mother's Maiden Name
Step 2- Card Options
If you would like to enroll in paperless billing and/or perform a balance transfer onto your new card you may do so at this point.
Step 3- Disclosures
Review the terms and conditions and, if you assent, select apply to officially submit your application.