The Big Cat Rescue (BCR) Affinity Card is the result of a partnership between BCR and Beneficial Bank, providing a credit card that ensures that a percentage of every purchase made using this card furthers BCR's mission of freeing big cats from commercial exploitation and stopping feline abuse. Aside from providing support to this animal rights organization, card users will also benefit from a potentially reasonable APR of somewhere between 10.24% to 20.24%, depending on their creditworthiness (APR is subject to change), and a standard rewards program of 1 point per dollar spent. As a signup bonus, for the first 6 billing periods from the account opening date, new cardholders receive an introductory APR of 0%. If you would like to show your support for this moral and worthy cause by applying for this card, you can follow our quick tutorial on how to complete the online application below. Scroll down to get started.
This credit card is issued and managed by the TCM Bank. Before continuing, we recommend that you read their privacy statement to better understand how they use and protect their clients' information.
Requirements
To be eligible for this credit card, you must fulfill the following requirements:
Be at least 18 years of age
Have a SSN
Have a mailing address within the US
How to Apply
Step 1 – To access an online application for this card, navigate to this page and click the green Apply Online Now link.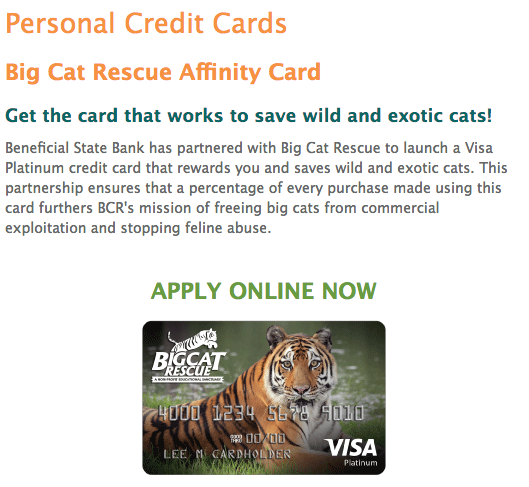 Step 2 – After clicking the link, this pop-up notice will appear. Click Continue to proceed to the next step.

Step 3 – Once on the page pictured below, scroll down and click the Apply Now link to start your application.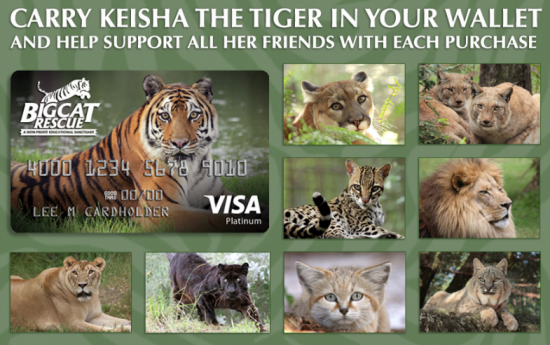 Step 4 – Here you will need to select whether you are applying for a Individual or Joint account, and click Next.

Step 5 – At this juncture you should be on the principal application page, begin by filling out the following information into the Personal Information window:
First and last name
Mother's maiden name
Email
Primary phone #
Alternate phone # (if applicable)
Physical address (including city, state, and ZIP code)
Length of time at address
Complete mailing address (if different from your physical address)
Preferred method of contact
SSN
Date of birth
Step 6 – You will need to enter all the employment and financial information listed below into the Employment Information window.
Employer
Occupation
Title
Length of time at this job
Work address (including city, state and ZIP code)
Work phone #
Previous employer (if you have spent less than 2 years with your current employer)
Address of previous workplace (if applicable)
Gross monthly income
Other monthly income (if applicable)
Description of other income (if applicable)

Step 7 – Now, in the Preview Address window, enter the details of your previous address as listed below.
Street address
City
State
ZIP code
Length of time at previous address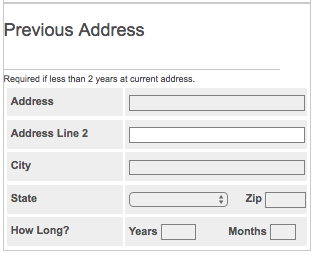 Step 8 – In the Housing Information window, indicate your housing situation by selecting the appropriate option. Then, in the Monthly Payment field, enter your monthly rent or mortgage expenses, and click Next to proceed to the next step.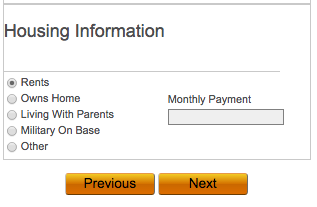 Step 9 – In this step, if you would like to add other authorized users or perform up to four balance transfers, you can do so. Enter the information for any additional authorized users that you would like to add to your card, and/or click Add Balance Transfer to perform a balance transfer.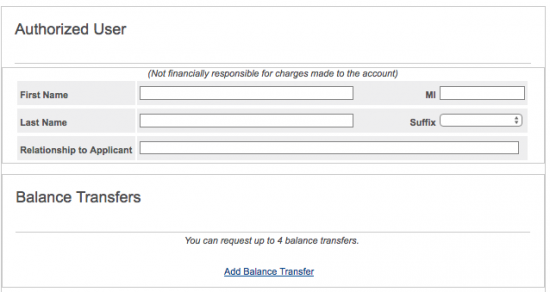 Step 10 – If you were referred to this card by a bank employee, enter their information in the Bank Contact window. Any additional comments that you would like to have considered as a part of your application can be entered into the Comments window. Finally, enter your Branch Number and CSRID in the spaces indicated, and click Next.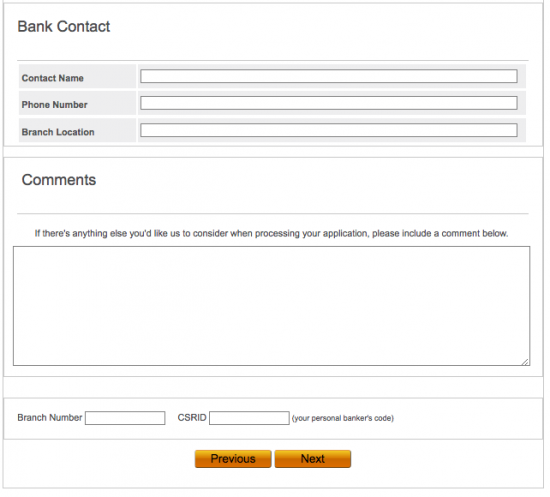 Step 11 – Finally, to complete your application, you will need to read and agree to the terms and conditions for the Big Cat Rescue Affinity Card. Indicate your attestation that you meet the minimum technological requirements for this card (if applicable), and click Submit.
Your application is now submitted for approval! We wish you the best of luck with your submission, and hope that our guide has been helpful for you today.