Do you love the Cleveland Browns? You might want to take advantage of the NFL rewards program Extra Points, offered by Visa and Barclaycard. You can receive rewards using your Cleveland Browns Extra Points Credit Card that can be traded in for savings on game tickets and other fan merchandise. You also get your favorite NFL team's logo and helmet on your credit card for every day fan pride.
The following instructions outline how one can apply for the Cleveland Browns Extra Points Credit Card. Before you begin your application, it is strongly recommended that you read the NFL Extra Points program privacy policy.
Requirements
In order to apply for the Cleveland Browns Extra Points Credit Card, it is important to keep in mind you must be:
At least 18 years of age
A resident of the U.S., though not Iowa, Puerto Rico, or a U.S. territory
In possession of a valid social security number
How to Apply
If you would like to apply for the Cleveland Browns Extra Points Credit Card but are a little unsure, read the following steps to find out how you can do it.
Step 1: Go to This Webpage. Click "Apply Now" underneath the image of the card.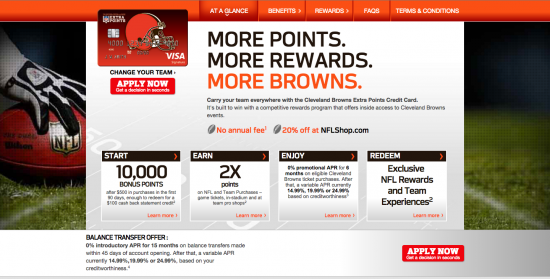 Step 2: Now that you're on the application page, begin to fill out the required information. This includes:
Name
Permanent address
City, state, and ZIP code
The time you've lived at your address
Your residence status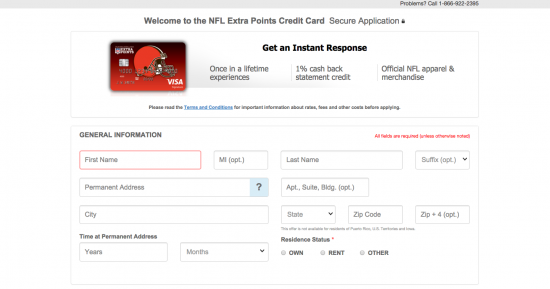 Step 3: The next section focuses on employment and financial information. Fill in your:
Occupation
Total annual income
Type of bank accounts
Preference for type of delivery
Primary phone number
Work phone number
Email address
Citizenship status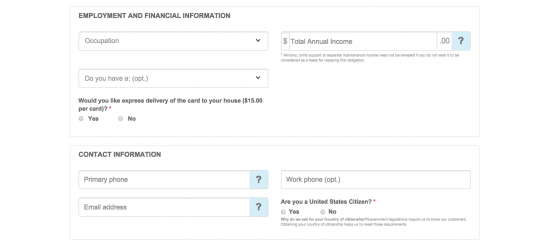 Step 4: For security reasons, input date of birth, social security number, and mother's maiden name.
Decide whether you would like paperless statements or not.

Step 4: Review and consent to the Terms and Conditions. Review the information your inputted and when you you're ready to receive the decision, click the "Apply" button.