The Comerica Visa College Rewards Credit Card is a credit card that is geared towards students enrolled in post-secondary education. This card is helpful for a number of reasons, but one that often goes overlooked is the ease in which cardholders' credit can be managed online. By simply accessing your online account you can make immediate payments, update contact information, and review your monthly statement history. Simply scroll down this page and you will find all of the information you need on how to login to your online account and how to activate your newly received credit card.
Reading the online privacy policy is not a necessary step but it is definitely a recommended one. Doing so will make you 100% aware of how your personal information is going to be protected and utilized throughout the login and activation processes.
How to Login
You will first need to direct yourself to the login homepage.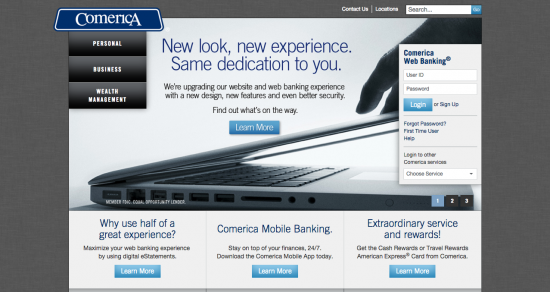 To gain access to your online account you must then enter your User ID and Password into the applicable fields and click the Login button. If you have forgotten your login information you can click the Forgot Password? link and you will be taken to a retrieval page.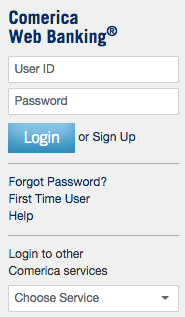 You must then enter your User ID and Password in the blank space provided and click the Next button to begin the information retrieval process.

Activate
Eastern: 1-800-266-3742
Central: 1-800-925-2160
Mountain/Pacific: 1-800-522-2265
If you still need to activate your Comerica Visa College Rewards Credit Card you may do so by either calling the most applicable activation number listed above or by creating an online account. In order to create an online account you must first click the Secure activation listed above. On the following page you will need to click the First Time User link.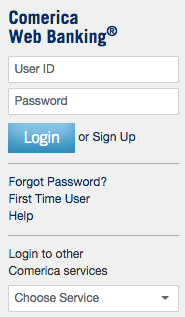 You will then need to enter your Social Security Number and your Primary Checking Account Number in the provided blank fields before clicking the Continue Setup button. On the following pages you will be tasked with entering some basic personal information and creating a User ID and Password before the activation and enrollment processes can be completed. Once completed you will have activated your Comerica Visa College Rewards Credit Card.