One can apply for a Crate and Barrel Credit Card online by entering personal and financial information in their online application form. Keep in mind that new applicants are subject to a credit approval before being issued a new account and credit card.
Requirements
In order to qualify for a Crate and Barrel Credit Card, one must:
Be at least 18 years old
Be a U.S. resident residing in the United States
Have a social security number
Have a credit card or other credit history
Have a mailing address
Possess a valid government-issued photo ID
How to Apply
Step 1: Go to This Webpage.
Step 2: Enter the following information:
Your first name, last name, and middle initial
Your date of birth
Your social security number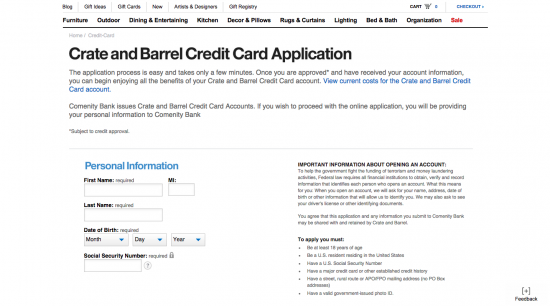 Step 3: Enter your annual income.

Step 4: Enter your mailing address. Keep in mind that you must be a resident of the United States to apply for a Crate and Barrel Credit Card.
Step 5: Enter phone numbers so that you can be contacted both during the day and in the evening. Also enter an email address that you can be reached with.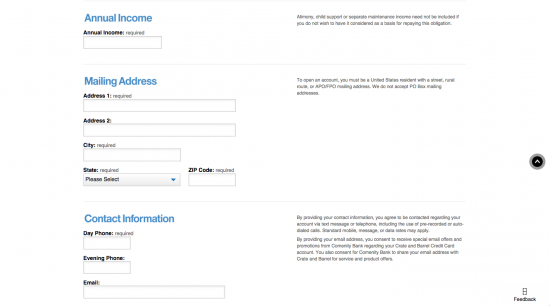 Step 6: Decide whether you would like to add an authorized buyer. An authorized buyer is someone who is able to purchase on your account.
Step 7: Read the Terms and Conditions and tick the box to consent to them.