The Avenue Credit Card features a $10 signup bonus in the form of a gift card and a 30% off discount on an item approved by the Avenue stores. If you love shopping at The Avenue, having their credit card probably isn't a bad idea. You can save some money and track your purchases with a convenient online account feature offered by Comenity Bank.
In case you're interested, the Comenity Bank Privacy Policy details the data the webpage will collect about you and your Avenue Credit Card account. The privacy policy has easy to read tables and thoroughly explains what they do with the information they collect.
Read on for instructions and tips on how to apply.
Requirements
There are some requirements to keep in mind before you begin applying. They include:
Being at least 18 years of age
Having a valid government-issued photo ID
Having a U.S. Social Security Number
If you pass these requirements, read on and you will be beginning your application soon.
How to Apply
Applying can be quicker if you prepare your information in advance. Follow these steps once you're all set to apply.
Step 1: Go to This Webpage.
Step 2: The first part of information required begins under "Your personal information". This section requires your name, your social security number, and date of birth.
Also include your annual income. Note the instructions located on the right hand side of the page, especially for the income section, as different states have different legal processes for income declaring.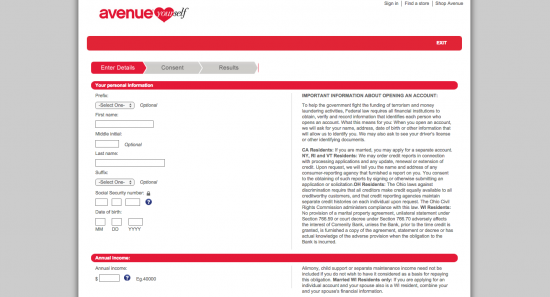 Step 3: Next is your address information. Tick a box for "street address" or "rural address". Fill in your mailing address and your city, state, and ZIP code.
Under contact information, fill in your phone number, your work phone number, and your email address.
Finally, you can choose to add an additional buyer. This option is useful for spouses or children. You can add one authorized buyer at the time of application and up to 4 later on.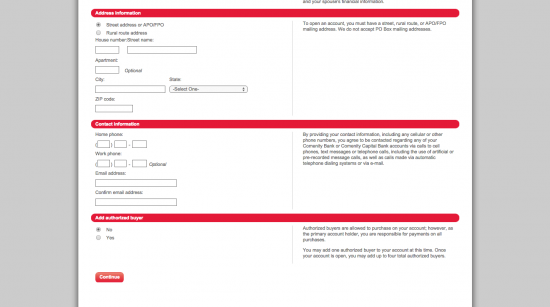 Click the red "Continue" button and you're all finished! Check out our other card reviews and instructions by clicking the Card Reviews logo at the top of this page.