The Avenue Credit Card is ideal for those who consistently make purchases at The Avenue. Card holders are able to take advantage of the rewards system that grants customers 30% off "an approved purchase" and the free $10 gift card offer.
Logging in to your The Avenue Credit Card online account can ease the occasional annoyances of having to make payments on your credit card. Read on for detailed information on how to login to your account and securely activate your card.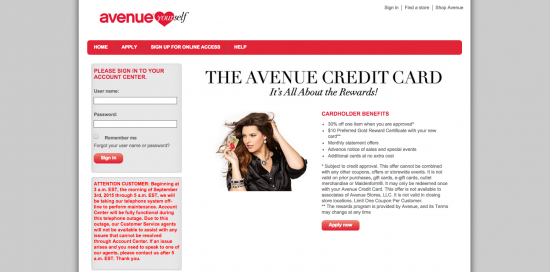 Make a Payment
Making a payment on your card is as easy as accessing the link provided on this page and entering your username and password. Note the grey box in the upper-right corner. This is where you can enter your username and password. For easier access on return visits, tick the box next to "Remember me".
Once you've logged in you will be able to make payments, edit account information and request a new card in case you lose yours.
Activation
Activating your card can be accomplished quickly, too. Click the "Secure Activation" link above. Click "Yes" when asked if you know your card number.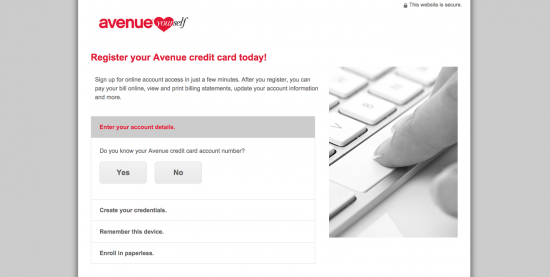 Now you will be required to enter your Avenue Credit Card account number, social security number, and ZIP code. These pieces of information will be used to verify your identity.
Next, click the red "Continue" button. After creating your username and password, choosing whether or not you'd like the site to remember your computer, and deciding on whether or not you'd like to enrol in paperless billing, you're all set. Your card has been activated.