The Bergner's Credit Card is a practical option if you find yourself spending a lot on the clothing sold at Bergner's stores. For every $200 you spend, you get $20 off. Also pay 0% APR and no annual card fee.
Opening an account with Bergner's and their partner, Comenity Bank, is easy with the following instructions and tips. Follow them and you will be receiving your $10 Bergner's card in no time.
Also, remember to have a look at the Comenity Bank Privacy Policy in case you're wondering what information about you is collected and who it is shared with. The privacy policy includes easy to read graphs and explanations on what information you provide them with and where it goes.
Requirements
The Bergner's Credit Card requires that you are:
At least 18 years of age
In possession of a valid government-issued photo ID
In possession of a U.S. Social Security Number
A resident of the U.S. or Canada
How to Apply
Prepare your information in advance and you will have an easier time filling out the required application form. Follow these steps to apply:
Step 1: Go to This Webpage.
Step 2: Begin filling in your information. Take your time and make sure all of the information is correct. You must include your:
Name
Social security number
Date of birth
Annual income
Note the income specifics on the right hand side of the page.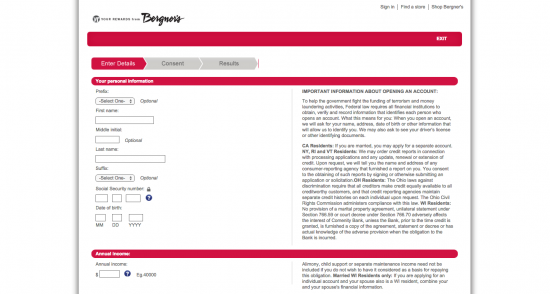 Step 3: Continue your application. The next required fields are:
Whether you have a street address or rural route
Your address, city, state and ZIP code
Your work phone number
Your home phone number
Your email
Whether or not you'd like to add an additional buyer
This additional buyer can buy things with your card but is unfortunately not responsible legally for any transactions they incur.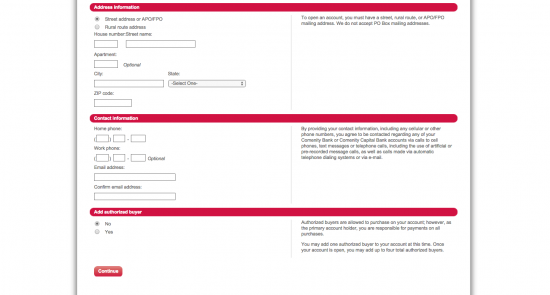 After clicking "Continue" you're almost finished! Complete the final steps and you will soon receive the decision to find out if you can begin benefitting from the Bergner's Credit Card.