Several benefits come with being a Bergner's Credit Card holder. If you've ever spent $200 or more at a Bergner's store, you could have earned a $20 rewards card. Thats 10% off.
Another benefit of the Bergner's Credit Card is its useful online component. You can manage your account online by making payments on your purchases, editing any information that needs to be changed, and viewing any transactions that occur.
This article will explain how to login and make payments, along with information on how to securely activate your Bergner's Credit Card.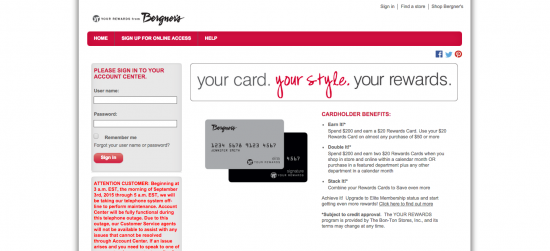 Make a Payment
In order to login, simply visit the login home page and enter your username and password in the blank fields provided.
Once you've successfully logged in to your account, you can pay for your purchases and check the status of your reward points.
Activation
If you have never used your card online before, you can register and activate your Bergner's card by heading to the link provided above. Once you're on the registration page, click "Yes" when you are asked if you have you account number. Your account number can be found on any Bergner's Credit Card bill sent to your home.
After clicking the "Yes" button, you need to give Comenity Bank some more information. Fill in your card's account number, your social security number, and your ZIP code. Click the red "Continue" button.
The next step is to create your credentials. This includes your username and password. Make sure to make note of those or remember them. Decide whether or not you'd like the device you're using remembered. Next determine if you'd like to enrol in paperless statements. This means no physical mail associated with your Bergner's Credit Card will arrive at your home.
You're now finished! Your Bergner's Credit Card is securely activated.