If you currently have any accounts with the Bank of Elk River and are either looking to save money, or if have existing debts, the Elk River Bank Platinum Visa Credit Card is a good choice for you. With a low APR of 10.24% to 21.24% it's the perfect choice for anyone who needs a credit card, but can't afford the high interest rates of other cards (APR is subject to change). This card doesn't boast any rewards program, but there's no annual fee and there is 0% interest for the first 12 billing periods. In the below tutorial you will be taken through all the steps necessary to apply for and activate your card.
(Review the Elan State Financial privacy policy)
Requirements
In order to be eligible for the Elk River Bank Visa Platinum Credit Card you must fulfill the following requirements:
Be at least eighteen (18) years of age
Have a valid US SSN
Have a valid US street address
How to Apply
Step 1- First thing you'll need to do in order to apply is navigate to the Bank of Elk River card summary page, find the Visa Platinum Card and click the Learn More or Apply Now link (as seen below).

Step 2- After clicking the Learn More or Apply Now link, you will be immediately redirected to their external account handling site Elan Financial Services (EFS). Locate the Visa Platinum Card on this page and click the Apply Now link.

Step 3- You will now arrive directly on a form where you will have to fill all the required fields (first you may want to review the privacy policy). Firstly the following personal information:
First and Last Name
Date of Birth
SSN
Country of Citizenship, any other countries of citizenship (if applicable) and your Country of Permanent Residence
Primary (enter your mobile number if you only have your cell phone) and Mobile Phone Number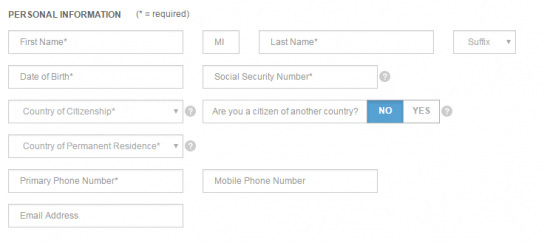 Step 4- In this field you will be required to provide the following:
Street address
City
State
ZIP Code
Time at Address
Monthly payment (rent)

Step 5- The last field requires that you provide the following:
Employment status
Employer (company name)
Occupation
Annual Income
Other Income (Yes or No)
Any accounts that you already have with the Elk River Bank

Step 6- Indicate whether you would like to transfer balances from any other banks or accounts.

Step 7- Finally, indicate whether you would like to add additional cards or authorize any other card users.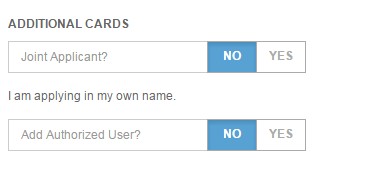 Step 8- Review the page to make sure that you have properly filled all the required fields and read the Terms and Conditions. If you accept the terms check the box indicating that this is the case and click Submit. You've now applied for yourElk River Bank Platinum Visa Credit Card! Good luck!