If you currently bank at The Bank of Elk River and you'd like to apply for a credit card through them, the Visa Bonus Rewards PLUS Credit Card is as good as any. This card boasts a fairly standard rewards program, offering 1 point for every $1 spent on all purchases plus an additional 50% bonus on all points earned over the course of a month. If you currently have a fairly decent credit score, this card is advisable as it offers an APR as low as 12.24% a year. However, this percentage fluctuates greatly and can result in the card holder paying 23.24% if their not careful with their finances (APR is subject to change). Also if should be noted that the annual fee for this card is greater than that of the standard visa rewards bonus card in that it costs $50.
Before you enter any information into the online portal, it would be wise to review the Elan Financial Services (The Bank of Elk River's credit card handler) privacy policy.
Requirements
In order to be eligible for this card, the below requirements must be applicable to you:
Be at least eighteen (18) years of age
Have a valid US SSN
Have a valid US street address
How to Apply
Step 1- First thing you'll need to do in order to apply is navigate to the Bank of Elk River card summary webpage and click the Learn More or Apply Now link (as seen below).

Step 2- You will notice that you'll be taken away from the Bank of Elk River portal and to their subsidiary card handlers website (Elan Financial Services). It is through them that you will be applying for your card. Find the correct card you'd like to apply for and click the Apply Now link.

Step 3- You will be brought to the application form which will start you off by asking you to supply this information:
Full name
Date of birth
SSN
Country of citizenship
Country of permanent residence
Phone number
Email address
Step 4- Next, you will need to enter your full address, the amount of time spent at said address, the housing status, the monthly payments made for rent/mortgage and whether or not it has an alternate mailing address.

Step 5- Your income and employment information will need to be submitted as follows:
Employment status
Employer name
Occupation
Annual income
Other income (yes/no)
Which bank accounts are held with The Bank of Elk River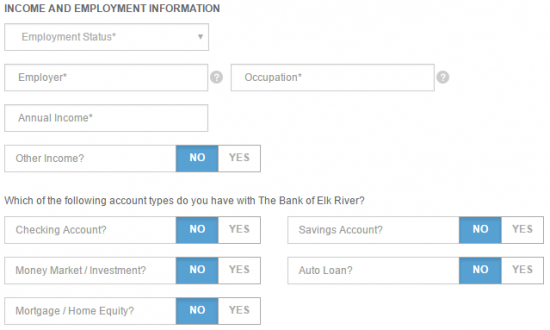 Step 6- Indicate whether or not you're interested in transferring a balance from another account/bank and if you'd like additional cards or would like to add another authorized user.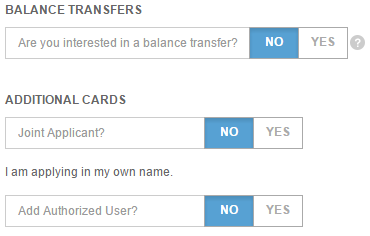 Step 7- Review the terms and conditions for your card, and if you comply, check the box that indicates that this is the case and click Submit. That's it! Good luck!