If you own or operate a business in the Elk River area and are looking to have a special credit card for business use, the Elk River Bank Visa Business Cash Card is probably a good choice for you. You should first have an account with the Elk River Bank and a Business Tax ID. This card has a reasonable APR of 12.24% to 23.24% (APR is subject to change) and offers cash back rewards (detailed on the main review page). The benefits apply mostly for office supplies, utilities, restaurant and gasoline purchases. Therefore, if your business does not have so many expenses in these categories, it may not be worth investing in this particular card. However, if you do spend a lot of money on utilities, etc. and are able to keep up to date with your payments, by all all means the Elk River Bank Visa Business Cash Card is a great choice and you will quickly enjoy the potentially massive cash back rewards! Let's get started.
First of all, before reading on or filling any application forms, we recommend that you consult the privacy policy for the Elk River Bank's external credit card handling firm Elan Financial Services (EFS).
Requirements
In order to be eligible for the Elk River Bank Visa Business Cash Card you must fulfill the following requirements:
Be at least eighteen (18) years of age
Have a valid US SSN
Have a valid US street address
How to Apply
Step 1- Navigate to the Elk River Bank Business Credit Card page and locate the Visa Business Cash Card (pictured below). Click Learn More or Apply Now!

Step 2- You will now be directed to the EFS page for Elk River Bank credit cards. Locate the Visa Business Cash Card and click Apply Now.

Step 3- You will now find yourself on the application form for your Elk River Bank Visa Business Cash Card. Fill all the necessary information, being careful that each category is accurately completed.
You will need to supply the following information:
Business name (as it will appear on your cards)
Business Tax ID
All business addressee information (address, unit, city, state, ZIP code)
Years spent at address/year business started
Business phone #
Gross Annual Sales
Organization type
Nature of business
Type of industry
Country of origin/number of countries with company access
Whether or not you'd like the cash access option
Step 4- After filling the pertinent information regarding your company deals, you will need to indicate which accounts and services you currently have with the Elk River Bank.
Select "no" or "yes" for the following:
Checking account
Savings account
Money market/investment
Auto loan
Mortgage/home equity

Step 5- First select your "business owner type" from the pull-down menu, then provide the following:
First and last name
SSN
Date of birth
Phone # and email address
Home street address, city, state and ZIP code
If you have an alternate mailing address, select "yes" and provide it in the next field
Annual income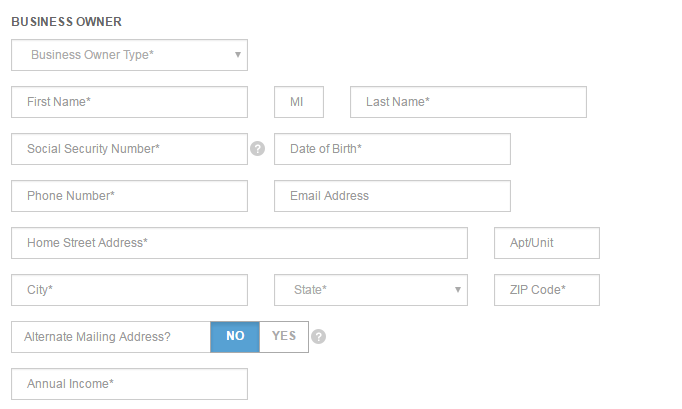 Step 6- Finally, select whether you would like to transfer any funds into your new account and whether you will need more cards for employee use.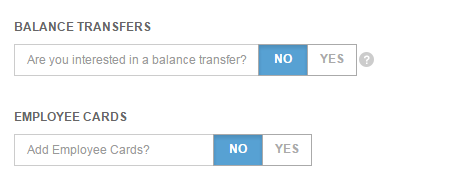 Step 7- Now that you have completed all the required fields, it's a good idea to review all the information to double-check it's accuracy. Read the Terms and Conditions and when you are ready, tick the box (shown below) and click Submit.

You have now completed your application for the Elk River Bank Visa Business Cash Card. Best of luck!