Cardholders of the Farm Bureau Members Rewards MasterCard can easily log in to their registered online account. With your online account you will be able to check your current account balances, activity and history, view statements, transfer funds and more! On this page you will find a quick guide on how to log in to your account. For a guide on how to register for an online account and activate your card, please scroll to the bottom of this page.
(Read the privacy policy)
How to Login
Go to the Farm Bureau Bank main page, navigate to their Internet Banking section, and click Login.

On the account login page (pictured below), enter your Login ID, Password and click Login.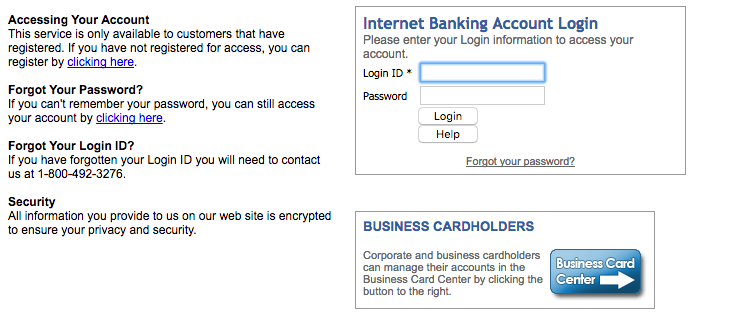 If you forget your password, simply follow the clicking here link located below Forgot Your Password? (see above picture) or by clicking Forgot your password? in the Internet Banking Account Login field. On the following page (pictured below), you will enter your Login ID. Click Submit and follow any further messages to reset your password.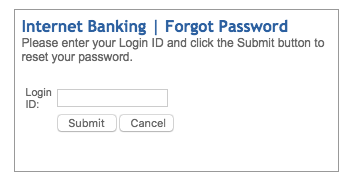 For forgotten passwords, you will have to call 1 (800) 492-3276 and speak to a representative to regain online access to your account.
Activation/Registration
To activate your new Farm Bureau Member Rewards MasterCard you will have to call the above phone number and speak to a representative. Be sure to have your MasterCard and pertinent identification on hand.
If your card is activated, but you have not yet created an online account, you can register for one here.
On the registration page (pictured below) you will be asked to enter the following information:
first and last name
account number
last 4 digits of your SSN
primary email address
Before clicking Register Now, please be sure to review the Terms and Conditions and privacy policy of the Farm Bureau Bank. Once you have completed all the above steps you be able login and manage your bills, view statements and transfer funds online from anywhere!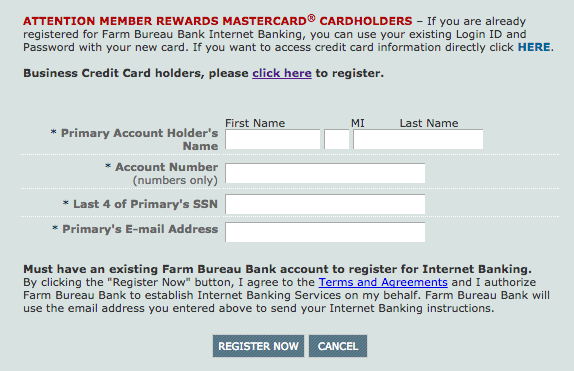 Before clicking Register Now, please be sure to review the Terms and Conditions and privacy policy of the Farm Bureau Bank. Once you have completed all the above steps you be able login and manage your bills, view statements and transfer funds online from anywhere!