Looking to apply for the Farm Bureau Members Rewards Mastercard Credit Card? This card is a fairly run-of-the-mill offering likely intended for pre-existing Farm Bureau members. If you for this or other reasons are looking to apply please feel free to consult our application guide, available just below.
We strongly recommend that all applicants familiarize themselves with the Farm Bureau online privacy policy before submitting any sensitive personal data to their forms.
How to Apply
To access the secure application form you must first navigate to the Farm Bureau card summary page and select apply online now.

Step 1- Card Selection
Select the Members Rewards Mastercard from the dropdown menu.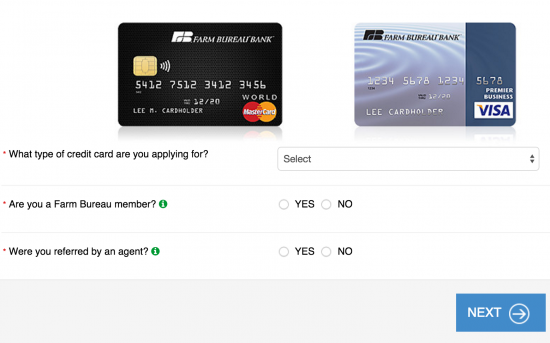 Step 2- Confirmation
Having selected the card in question indicate how you were referred, if you are a FB member, and what your name and SSN are. Select next to continue.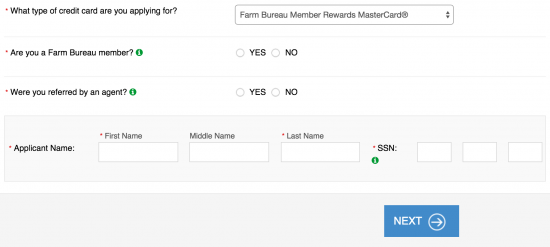 Step 3- Personal Information
Input the following personal data into this section of the form:
Full Name
Address
Residence Type
Time at Residence
Monthly Housing Payment
Phone Number
Email Address
Date of Birth
Residency Status
SSN
Drivers's License #
State of Issuance
Expiry
Joint Applicant Status (optional)
Step 4- Financial Information
Indicate your employment status at this point. Depending on your answer you will be redirected to the appropriate form for your status.

Step 5- Additional Information
Farm Bureau strangely offers you the chance to write a note to the application reviewer, if you should choose to do so.

Step 6- Disclosures
Read through the terms and conditions and the additional listed disclosures and, if you assent to them all, select submit to officially submit the application.