Fiat has held a leading role in the automotive industry since the 20th century. If you're a proud driver of one of their vehicles wouldn't you also like to take a leading role in your personal finances? If your car reflects who you are, then your credit card should as well. Apply for the Fiat MasterCard to gain access to all the perks and benefits it has to offer such as 3 points earned per $1 spent at FCA Dealerships, 2 points earned per $1 spent on travel purchases and 1 point earned per $1 spent on all other purchases. Enjoy all of this while paying no annual fee and a 0% APR. Note that the APR jumps up to 17.24% after the first 6 billing cycles (APR is subject to change). There is no limit to the amount of points you can earn but don't hold onto them for too long because they expire after 7 years. If you want to discover the world with a Fiat MasterCard, we'll show you exactly how to apply for one in the step by step tutorial below.
Take the time to read through the privacy policy provided by First Bankcard (the card-issuing company, a division of First National Bank of Omaha) to familiarize yourself with their sharing policies.
Requirements
In order to apply please check that you meet the following requirements:
You are 18 years of age
You have a valid US citizenship
How to Apply
Step 1 – In order to get to the application form you'll need to get to the FCA MasterCard home page (linked here). Scroll down to the Available Cards section and click on the Fiat MasterCard.

Step 2 – The first section of the form includes entering your name, address, phone number and email address.

Step 3 – Next they ask you for your date of birth, social security number and mother's maiden name.

Step 4 – In this step you'll need to provide information on your living situation. Enter the number of years you've lived in your current domicile, check the circle that applies to your housing status and enter the amount it costs you per month to live there.

Step 5 – You are required to admit your financial information including present employer, business phone number and total annual income. They also ask you to provide the dollar amount in your checking, savings and investment account.

Step 6 – In this section you can choose to add another cardholder to the account. If you wish to do so, enter their name in the fields provided.

Step 7 – The last step isn't mandatory, but should you want to make a balance transfer you can enter up to 3 transfers in this section.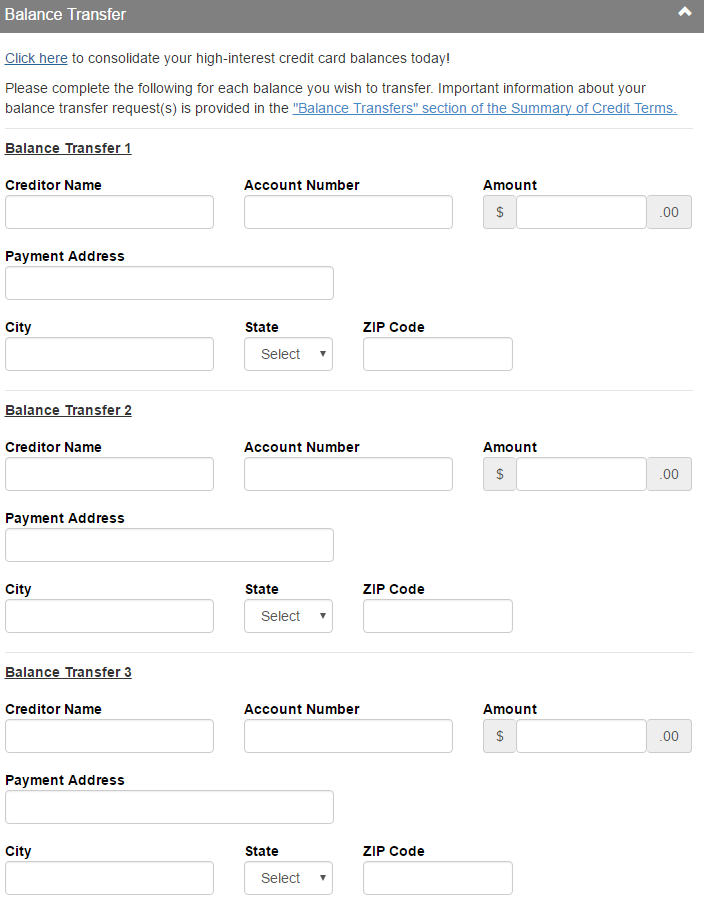 Take a look at the terms and conditions before clicking Continue to make sure you meet and understand the eligibility criteria. Once that's done all you have to do is sit back and wait for your application to be approved. We hope you found this tutorial useful and that the whole process went as smoothly and painlessly as possible.