If you're considering a Mopar MasterCard, you're probably a person who's committed to their vehicle, someone who enjoys owning a unique car that reflects on you as an individual. You want your car to perform at the best of its capabilities while looking great at the same time, so we're betting you're someone who wants their credit card to do the same. The Mopar MasterCard is a card that will take care of your expenses, just like Mopar takes care of your vehicle. Life is expensive enough already, so why pay anything for a credit card when you don't have to. Mopar MasterCard has no annual fee and a 0% introductory APR lasting for the first 6 billing cycles, after which it will go up to 17.24% (APR is subject to change). You also rack up 3x the points by spending it at FCA Dealerships. The points are unlimited (although they do expire after 7 years) so once you get enough of them you can spend those points on modifications for your car, oil changes, tire rotations, inspections, you name it. Points are also redeemable other ways too and can be earned on travel purchases (2 points per $1 spent) and everyday purchases (1 point per $1 spent). If you think Mopar MasterCard is a perfect fit for you, follow our instructions below on how to apply for yours today.
We highly recommend you read through the privacy policy provided by First Bankcard (a division of First National Bank of Omaha) to completely understand the manner in which they will use your personal data.
Requirements
You must be 18 years of age
You must have a valid US citizenship
How to Apply
Step 1 – Let's first get to the FCA MasterCard homepage (linked here) and then scroll down to the bottom. You'll see pictures of 6 different credit cards under Available Cards; click on the Mopar MasterCard on the far right.

Step 2 – The first section of the application form will have you entering the following data:
Full name
Address
Phone number
Email address

Step 3 – Next you'll need to provide your date of birth, social security number and mother's maiden name.

Step 4 – You will be asked to give the number of years at your current address, whether or not you own or rent, and how much you pay per month.

Step 5 – Employment information is also needed such as your present employer, business phone number, total annual income and bank account information.

Step 6 – If you want to add a member to your account so they can have a card as well, write in their full name in the fields provided. If you don't want to add another user then you can skip this step.

Step 7 – The last section provides you with the option of adding up to 3 balance transfers. If this isn't something you would like to do, then you may skip this step as well.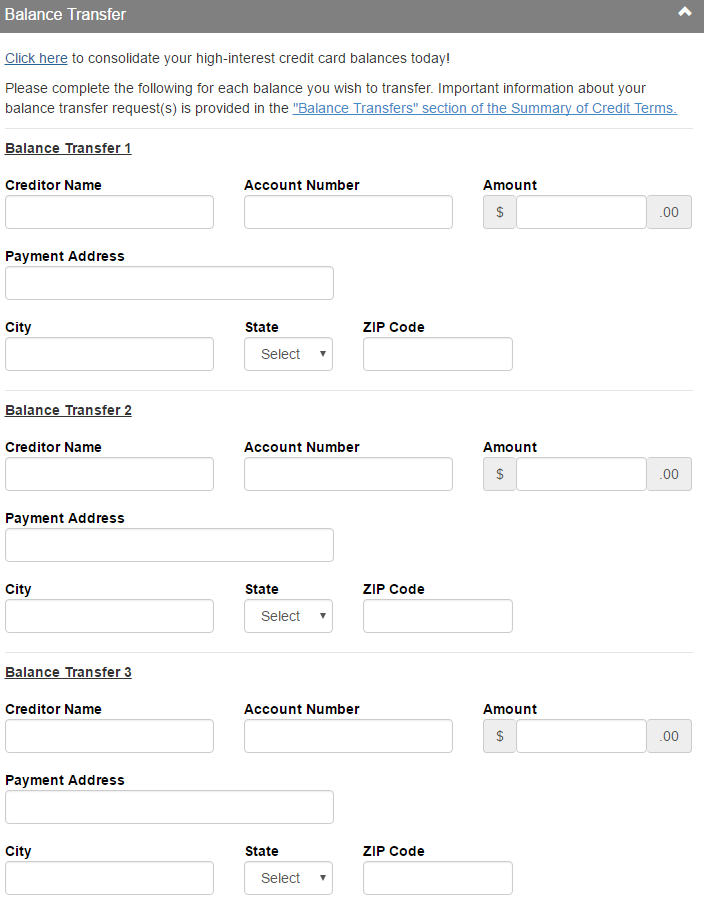 Finally, read through the terms and conditions before clicking Continue to make sure you understand the rules of eligibility etc. Thank you for choosing cardreviews.org to complete your application process. We hope your application for the Mopar MasterCard is successful.