Whether you're exploring in a Renegade, Wrangler, Patriot or Cherokee, you're showing the world that you don't succumb to limits like any ordinary driver; you like to go wherever the wheels take you. Why not extend that philosophy to your wallet? The Jeep MasterCard is the perfect way to show that you are a proud owner of a Jeep brand vehicle, a vehicle that has been inspiring freedom and adventure for 75 years. Cardholders of the Jeep MasterCard will be able to earn points when making qualifying purchases at FCA dealerships, as well as on travel purchases and everyday purchases. The points you earn don't expire for a whole 7 years, which should be plenty of time to redeem them. You pay no annual fee and also enjoy a 0% APR for the first 6 billing cycles, after which an APR of 17.24% is implemented (APR is subject to change). If you want to show off your card like you show off your car, follow the step by step instructions below to apply for your Jeep MasterCard today.
This credit card is issued by First Bankcard (a division of First National Bank of Omaha), please take a second to read their privacy policy.
Requirements
You have to meet the following requirements in order to apply for this card:
Be 18 years of age
Be a US Citizen
How to Apply
Step 1 – The first step is to follow this link to get to the FCA MasterCard home page. Once there you'll need to scroll down to the bottom to Available Cards and click on the Jeep MasterCard.

Step 2 – The application form includes a series of fields designed for you to enter your personal and financial information. The first section asks the following of you:
Name
Physical address
Phone number
Email address

Step 3 – You'll need to provide your date of birth, social security number and mother's maiden name.

Step 4 – Next they ask for your Housing Information including years at address, housing status and monthly housing payment.

Step 5 – Enter in the name of your present employer, their business phone number as well as your total annual income. The section about your account information is not necessary, but fill it in should you wish to do so.

Step 6 – Should you wish to add another user onto the account, you may do so in this section by entering their name.

Step 7 – The last section allows you to make a balance transfer. If you are interested in doing so, enter the appropriate information. If not, you may skip this step.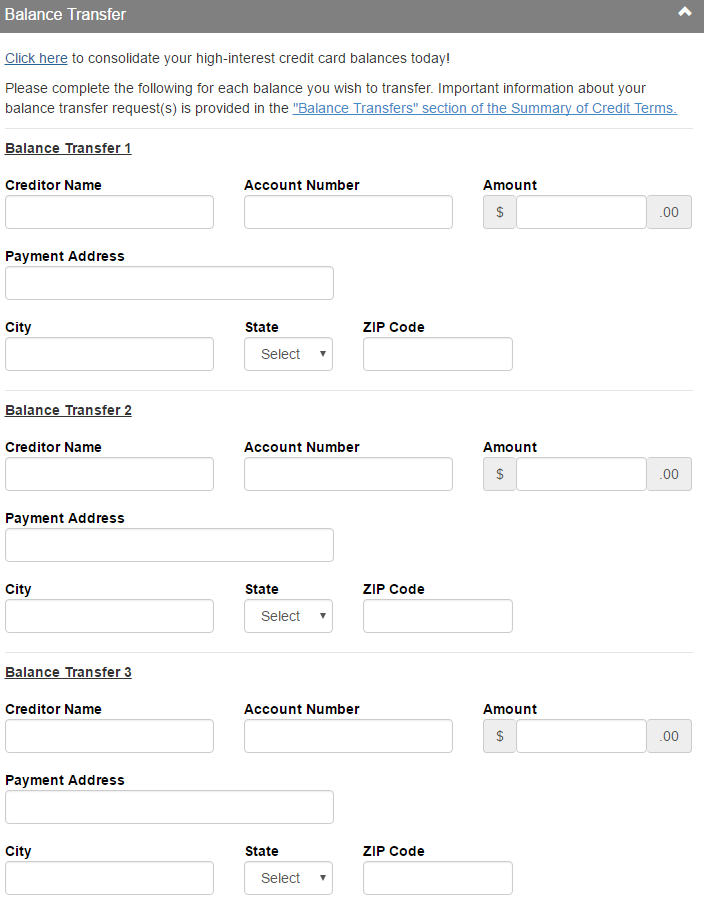 Once you've read through and accepted the terms and conditions, the application process will be complete. We wish you the best in your application and hope this tutorial was helpful to you.