The Fidelity Visa Signature Credit Card is a rewards card which enables you to directly deposit your earned points into an investment account with Fidelity Investments. For the first $15000 you will received 1.5 points per dollar spent, afterwards you will be bumped up to 2 points/dollar. On top of this, you will have the peace of mind that only a low APR credit card can provide without having to pay a dime annually. If any of the interests you, scroll down to our application guide and we'll walk you through the process.
Before entering any information into a website of nature, we recommend reading over the privacy policy first.
How to Apply
The application forms are made available through the card summary page for the Fidelity Visa Signature Credit Card. Once there, you can click on the Apply Online link as displayed below.

Step 1-Link Fidelity Account
Enter in the Fidelity Account Number into the field below for your rewards to become directly deposited.

Step 2-Personal Information
You'll be required to provide the following:
Full Name
Phone Number
Email Address
Full Physical Address
Full Mailing address (if different from physical)
Housing Status
Monthly Payment
SSN
Date of Birth
Mother's Maiden Name
Country of Citizenship
Citizen Status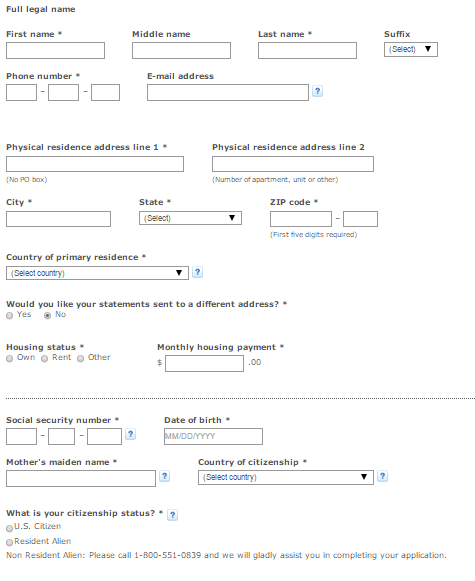 Step 3-Employment Status
Choose which employment status applies to your situation then enter in your total annual income as well as the source of said income.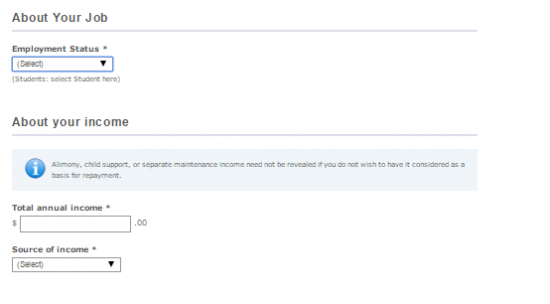 Step 4-Balance Transfers and Additional cardholder
Step four will provide the option for balance transfers and additional card holders. Check the box if either apply and fill out the necessary forms which.

Step 5-Terms and Conditions
Read over the terms and conditions, and if you agree, check off the box before clicking Continue and having your form sent in for review.