If you have applied for the First Bank and Trust Visa Platinum Credit Card and just received it in the mail, you are most likely looking to activate your card and open an account online. The convenience of online banking has made it possible to check past statement/current balance, make payments and balance transfers as well as update personal information without every leaving the comfort of your computer screen. Below we've compiled a guide to get you through not only the registration process, but also the activation and log in procedures. If you're having trouble, scroll down, we're here to help.
We highly recommend reading over the privacy policy found here before entering in any personal information
How to Login
Logging in to manage your credit card can be done through a third party site called onlineaccessplus.com which is accessible here. Once you've navigate to the First Bank and Trust login page, you will be able to enter in your username and on a subsequent page your password.

If you've forgotten your password, select the link below the field to be taken to the fields below where you will have to provide your SSN as well as your Mother's Maiden Name before password retrieval is granted.

Activation/Registration
Activation #: 1 (877) 224-1018
You must call the number above to be activate your new credit card. If you'd like to register for an online account with FBT, follow the link to be taken to the below page and click the Enroll button.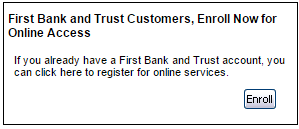 You will have to then enter in the 16 digit card number on the front of your visa. Steps 2-4 will have you submitting personal information to confirm your identity as well as creating security credentials such as password, username and security image etc. Once all this has been completed, you will have access to your online account. Good luck!