If you are looking for a credit card with the Five Star Bank, the Five Star Bank Visa Platinum Card is a decent choice for people looking for a straightforward card with a reasonable interest rate. This card has no annual fee and a competitive APR of 10.24% to 21.24% (APR is subject to change). You also get a 0% APR for the first 12 billing cycles, which could come in handy if you are transferring the balance from another credit card. We've provided a guide to help you complete the online application for the Five Star Bank Visa Platinum Card.
Please review the privacy policy for Elan Financial Services, the credit card provider, to see how they protect your personal information. Scroll down this page if you'd like to get started with filling an online application.
Requirements
To successfully apply for this card you must fulfill the following requirements:
Be at least 18 years of age
Be a US citizen
Have a US SSN
Have a US mailing address
How to Apply
Step 1- To access the application for the Five Star Bank Visa Platinum Card go to the Five Star Bank credit card page by clicking here, and then navigating to the Visa Platinum Card as pictured below. Follow the Apply Now link to get to the application page.

Step 2- On the application page you will have to provide a large amount of information to be able to submit an application. We have detailed all the required information, beginning with the following Personal Information which you will have to be entered in the appropriate fields of the application:
First name
Last name
Date of birth
SSN
Country of citizenship
Country of permanent residence
Primary phone number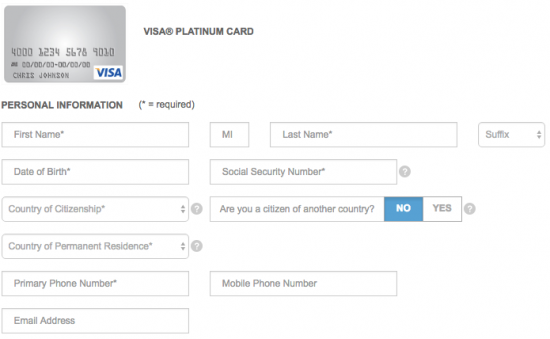 Step 3- To be able to receive your card you will need to provide the housing information in the section seen in the example below:
Street address
City
State
ZIP code
Time at address
Housing status
Monthly payment
Alternate mailing address (select Yes/No)

Step 4- Provide the following information as indicated to help determine your credit limit:
Step 5- If you are an existing Five Star Bank customer select which accounts, loans or investments you have by indicating Yes in the field like the one seen in the example below.

Step 6- Select Yes or No for the following options for your account:
Balance transfers
Joint applicant
Add additional users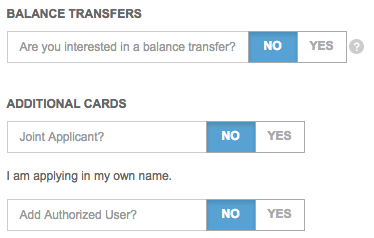 Step 7- Now that you have completed the application form, before you submit it review the Terms and Conditions for the Five Star Bank Visa Platinum Card to be sure you agree to them.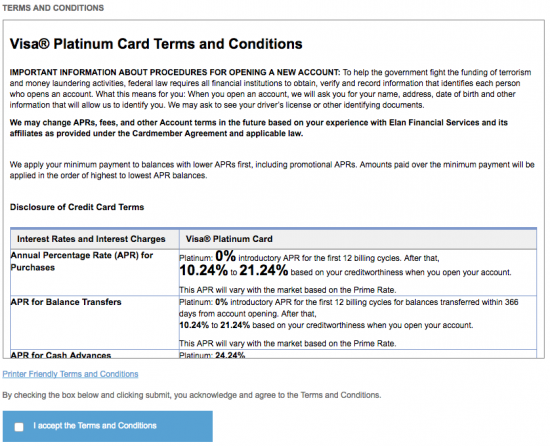 If you agree, tick the box indicating that this is the case, then click Submit to submit your finished application form.

Providing that you have completed all seven steps, your application should be submitted for approval. You should expect a response within 5-10 business days. Good luck! We hope that you found this guide helpful in making your application process easier.