Online banking services for the Guide Dogs for the Blind Credit Card are provided by the card-issuing financial institution, Commerce Bank. By registering for online banking with them, cardholder can access their accounts online from their home, office or on-the-go. Once logged into their online banking account, users are able to view their statements, pay their bills, perform balance transfers, review their transactions, and generally keep up-to-date with their account activity. To assist you in accessing your account online, we have provided a guide below which includes instructions on how to login, how to activate a new card, and how to enroll in online banking. Consult our guide by scrolling down.
Before you continue, we strongly recommend that you take a moment to review Commerce Bank's privacy policy.
How to Login
To log into your online banking account, navigate to the Commerce Bank login page. Once there, enter your Customer ID and Password into the indicated fields before clicking Log In. If your login credentials were both entered correctly, you should now be logged into your online account.

If you can't remember your password, click on the Forgot Your Password? link found in the login window. On the password-reset page, enter your Customer ID, the Last 4 digits of your Social Security Number, the Last 4 digits of your Debit/Credit Card Number, and your 3-digit Security Code. Click Continue and, by following the instructions in the subsequent page(s), you will eventually be able to reset your password.

Activation/Registration
You can either activate your Guide Dogs for the Blind Credit Card by calling the activation number posted above, or by navigating to the Commerce Bank credit card activation page. If you activate your card online, you will need to enter the last four digits of your social security number or tax identification number and the 16-digits account number that appears on the front of your card into the activation page before clicking Activate to activate your new card.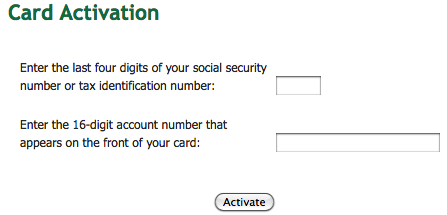 Once your card has been activated, you can enroll in online banking with Commerce Bank in order to manage your credit card finances. To enroll, click the Secure Registration link that we have provided above the activation number (scroll up). After following this link, scroll down to the Activation Steps heading and click the Activate Now link to continue to the next step.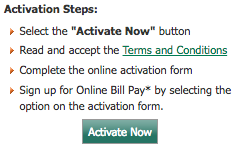 Now you must read and agree to the online banking terms and conditions. If you are agreeable to these terms click Accept to proceed.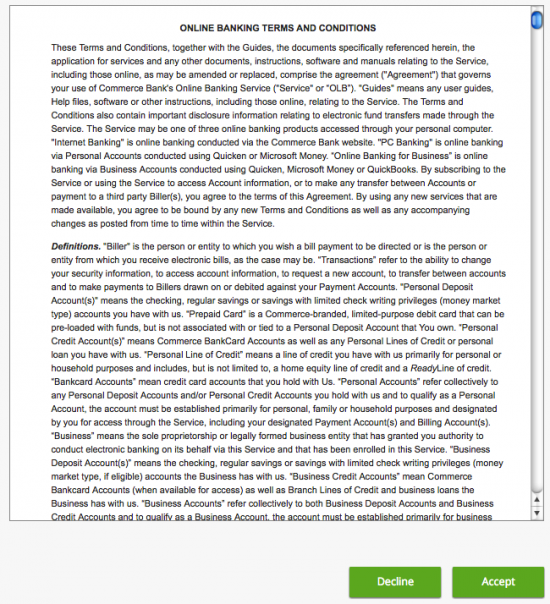 Here you will need to select Credit card before clicking Continue.

Next, provide all of the following information into the indicated fields:
SSN
Account number
Credit card security number
Name on credit card
Amount of last payment
Zip code
Email address
Confirm email address
Enroll in bill pay (y/n)
Click Continue and in the subsequent pages, you will quickly finish setting up your online banking account. That's all there is to it! We hope that our guide has helped clear up any questions that you may have had. Happy banking!