In order to login to the Guitar Center Credit Card online service and make a payment, the user needs to enroll in the service. Once the user has enrolled, they will be able to login, view their credit information, and make a payment.
Enroll
In order to login and access the online service, the user first needs to enroll .Begin at the Credit Card homepage and click either the "Pay your Bill", "Manage your Guitar Center Card", or "Manage your Guitar Center Credit Card/Pay your bill" hyperlink.
2.) The user should arrive at the following webpage, where they should click the "enroll" button.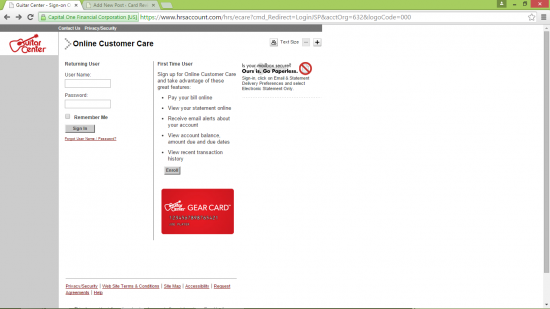 3.) The user must then fill out the enrollment form, select their preferred method of statement delivery, set up an email alert system, and provide a mobile number. Continue through the enrollment form until its completion to receive a username and password.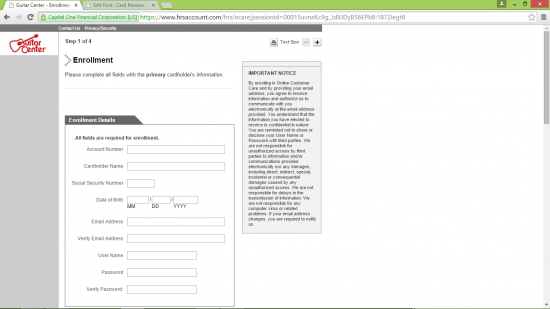 Login and Make a Payment
1.) Once the user has collected their user name and password by enrolling for the online service, they can continue to login and pay a bill. The login field is found on the left hand side of same page as the enrollment form.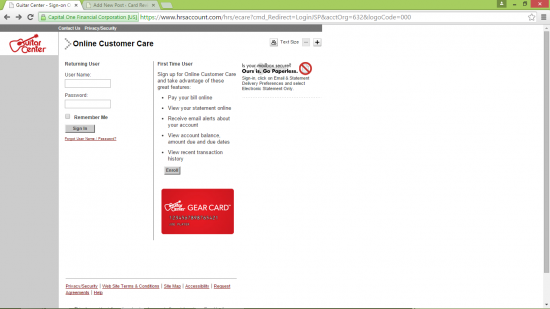 2.) Once the user has logged in, they can pay a bill, review their statements, and review their balances, amounts due, due dates, and transaction history.