Did you know that you can manage your Jacksonville Jaguars Extra Points Credit Card account online? The card-provider, Barclaycard, has provided an online portal through which account holders can perform balance transfers, make payments, manage their rewards, statements and more. To help you access your account online, we have provided some useful information below, including how to activate a new card, how to register for an online banking account, and how to access your account once created. Simply scroll down the page to consult our guide.
Before entering your personal information online, we recommend you read the Barclaycard's privacy policy.
How to Login
To access your online account, go to the Barclaycard website and enter your username and password in the Cardmember Login window. Once this is done, click Log in to enter your online banking portal.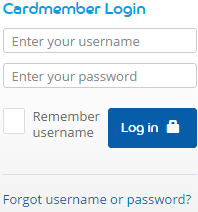 If you forget your login information, don't worry, just click the Forgot username or password? link in the login window. On the next page, enter the Last 4 digits of your social security number, your Date of birth, and Account number. Click Continue and, on the following page, reset/retrieve your login information to regain access to your account.

Activation/Registration
If you just received a new Jacksonville Jaguars Extra Points Credit Card in the mail and have not yet activated it, call the above number and have a Barclaycard customer service representative to assist you in doing so. Once your card is activated, and if you'd like to enroll in online access to your new account, click the Secure registration link above this paragraph. On the linked page enter the following information:
Last 4 digits of social security number
Date of birth
Account number
U.S. citizenship
Next you will need to create and input a username and password. These credentials will be used whenever you want to login to your account. When this page has been completed, click Continue. You can now enjoy the convenience of online access to your new credit card account.