Are you a diehard Jacksonville Jaguars fan? Do you like going to see NFL games live? Are you currently in the market for a new credit card? Well, look no further than the Jacksonville Jaguars Extra Points Credit Card. Not only does this card proudly display your favorite team's logo, it also gives you extra reward points on certain NFL purchases. Before we get into the rewards program, it's important to mention that the APR for this card has three different rates depending on your credit score; you can expect to pay either 15.24%, 20.24% or 25.24%, which is a range of 10% from lowest to highest (APR is subject to change). So take your credit score into account when applying for this card, as an APR of 25.24% is far from ideal. All that being said, there is no annual fee for this card and the rewards program offers you 2 points per 1$ spent on NFL tickets, TV packages, pro-shop and online NFL store merchandise. Additionally, you get a standard rewards program of 1 point per 1$ on all other purchases made with your Jacksonville Jaguars Extra Points Credit Card, as well as a signup bonus of 10,000 points after your first $500 of card purchases made within the first 90 days of your account opening. Altogether, these different aspects add up to make a pretty nice card, just keep in mind that you should probably avoid the high interest rate if this is what you qualify for. If you would like to apply for this card now, you can scroll down the page and follow our step-by-step guide to completing an online application for the Jacksonville Jaguars Extra Points Credit Card.
This credit card is issued and managed by Barclaycard. We recommend that you consult their online privacy policy before submitting an application online.
Requirements
To be eligible for this credit card, applicants must meet the following criteria:
Be 18 years of age or older
Have a valid US address
Have a valid US SSN
How to Apply
Step 1 – Before you can start your secure online application, you'll need to navigate to the NFL Extra Points page and click Apply Now.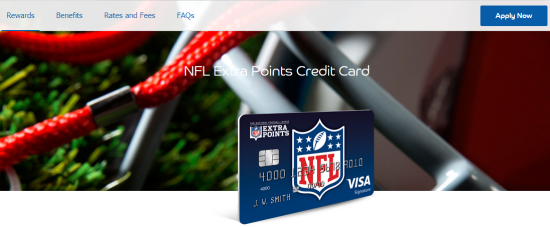 Step 2 – Next, clicking on the drop-down menu, select the Jacksonville Jaguars and click the red Apply Now button.
Step 3 – At this juncture, you should be on the application page. Starting in the General Information section, enter the following information as detailed on the application form:
Name
Permanent address
Time at permanent address
Residence status

Step 4 – Now, select your Occupation and enter your Total Annual Income in the indicated field. As an option, select which banking account you have from the pull-down menu, and select either Yes or No to indicate whether you would like to have your card express-delivered for a fee of $15.

Step 5 – Next, provide your Primary phone number, Work phone number (optional), Email address, and then indicate if you are a US citizen.

Step 6 – To further ensure your account and identity, you will need to supply your Date of Birth, Social Security Number and Mother's Maiden Name in the spaces indicated.

Step 7 – If you would like to receive your statements electronically, tick the box marked Yes, I want to receive Paperless Statements, read the disclosures, and tick the box indicating that you have the necessary technological requirements to receive your electronic statements. If you would like to perform any balance transfers, click the Click here link found beneath Balance Transfers. If you are not interested in these options, skip this step.

Step 8 – Your application is now complete! Review all of your information to make sure you didn't make any mistakes or miss anything, and review the terms and conditions for this card. When you are ready, click the green Apply button to submit your application. You should receive an immediate response. We hope that our guide has helped you in successfully submitting your application. Best of luck!