Jetblue, being the modern airline travel company that they are, have a slick card available through Amex, the aptly-named Jetblue American Express Credit Card. This card offers 8 points / 1$ spent on all things Jetblue, and 1 point / $1 on all other purchases: a fantastic deal if you're already flying exclusively Jetblue. If you're interested in apply for this card please read on, as we have been slaving away creating a simply fantastic application guide just. for. you.
Slow down! Before applying you'll want to read over the Amex Online Privacy Policy just to be sure that your information is being handled appropriately.
How to Apply
Jetblue has located their secure application within their card summary page. This page is designed to break down the rewards structure of the card. To access the secure application simply select the apply now link and wait to be redirected.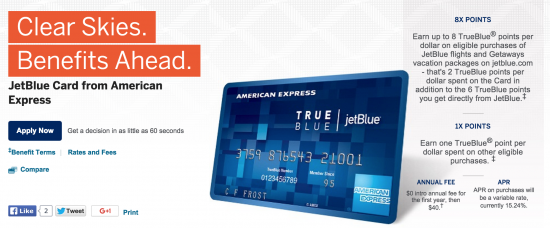 Step 1- Personal Information
You will first have to enter the following personal information into the provided fields:
Full name
Name on card
Email address
SSN
Date of birth
Phone number
Home address
Jetblue account number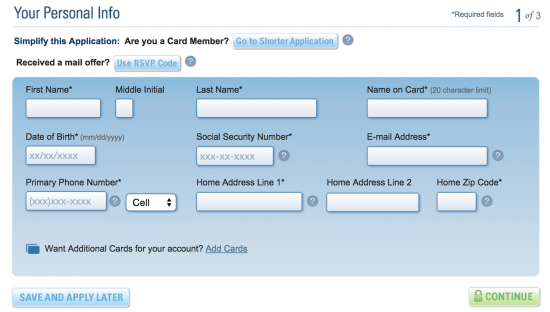 If you would like to include any other special person onto your TrueBlue account you may do so by adding additional cardholders at this point.
Step 2- Financial Information
You will need to submit some basic financial information to Amex in order for them to properly evaluate your creditworthiness. Specifically, you will need to submit the following:
Employer name
Employer city/state
Employer phone number
Income source
Total annual income
Bank accounts held
Housing status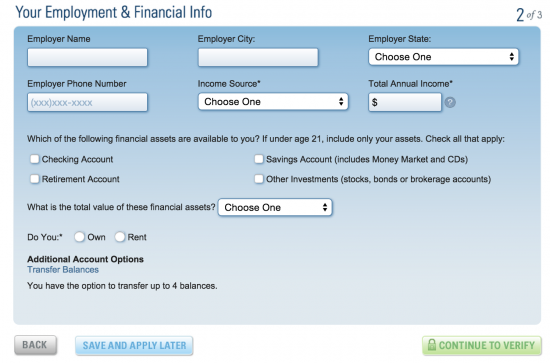 If you would like to perform a balance transfer you may do so at this juncture by entering some basic information for the cards you wish to draw from.
Step 3- Terms and Conditions
Please check out the terms and conditions for this card here. If you approve, submit the application and await your 60-second judgement from Amex. Bon voyage.