Congratulations on receiving your John Hopkins Alumni Cash Rewards Visa Credit Card. Before you can begin your spending sprees, you'll need to activate you card. Once you've done this you'll find it prudent to create and login to your Bank of America online banking account to keep track of your expenditures. We've taken the liberty of creating a short tutorial for you to follow, should you find these processes confusing.
Before continuing, please carefully read through the privacy policy of Bank of America (the issuing company of this credit card) to gain knowledge of the methods in which they use your personal information.
How to Login
To begin the login process, you'll have to get to the Bank of America home page (we have provided a link here for your convenience). On this page you'll find a red Secure Sign-in box where you will need to enter your Online ID and Passcode before clicking Sign In. If the information you entered was correct you should be successfully logged into your account.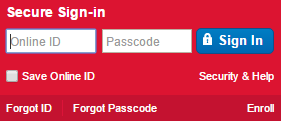 If you can't remember your login information, click on either the Forgot ID or Forgot Passcode (whichever pertains to your particular situation) to regain access to your account. You will be asked to give your card or account number plus your social security number. The process for both of these situations is almost identical, except for the fact that you either enter your Passcode or Online ID, depending on which one you forgot. Once you click Continue you will have access to your account.
Activation/Registration
Activation #: 1 (800) 276-9939
In order to start using your John Hopkins Alumni Cash Rewards Visa Credit Card, you'll need to activate it by calling the activation number above. Once that's out of the way, you will probably want to enroll for an online banking account. The issuing bank of this credit card is Bank of America, who provides an excellent online banking service. It will put your mind at ease knowing you can gain secure access to your accounts anytime, anywhere, so you can make payments, transfer funds and stay on top of your finances. To begin the enrollment process, click on the Secure Registration link we have provided. You will be asked to enter your account or card number as well as your social security number. After that, all you have to do is create an ID and password, set up a few security questions and voila, your new online banking account is all set up.