The MidFirst Bank Secured Credit Card is designed for the individual wishing to rebuild their credit score. The credit limit for this card is secured by a MidFirst savings account rendering it impossible to fall into debt; even if you cannot pay your balance, your security deposit will cover the cost. Credit limits for this card range from $300 to $5,000, depending on your collateral security deposit. You will receive statements and make payments as with any other credit card, but if you are late on payments the bank can draw from your security deposit to pay your debts at their discretion. The MidFirst Bank Secured Credit Card has a pretty high APR of 18.24% on purchases and 24.99% APR on cash advances, so there's a strong incentive to keep up with your payments (APR is subject to change). Also note that this card has an annual fee of $19 while the other credit card options that MidFirst has on offer have none. In summation, if you are specifically looking to build a good credit history, you have a low chance of being approved for another credit card, or you simply do not trust yourself to be make timely payments, the MidFirst Bank Secured Credit Card may be a reasonable choice for you.
We recommend that you read the MidFirst Bank's Security Measures to see how they protect your information online.
Requirements
To be eligible for the MidFirst Bank Secured Credit Card you must fulfill the following requirements:
Be at least 18 years of age
Have a US SSN
Have a valid US mailing address
Have a US issued photo ID
Have a MidFirst savings account
How to Apply
To apply for the MidFirst Bank Secured Credit Card you will first need to have a savings account with them.To open either a savings account or to apply for a Secured Credit Card, you will have to go to a MidFirst banking center. Unfortunately, there is no online application for this card at the moment, so even if you currently have a savings account, you will still need to go to a MidFirst banking center to open a Secured Credit Card and set your credit limit. A trip to your nearest banking center is inevitable. For more information on the MidFirst Bank Secured Credit Card,go to this page where you can review the card agreement and check out other card options that you may be interested in.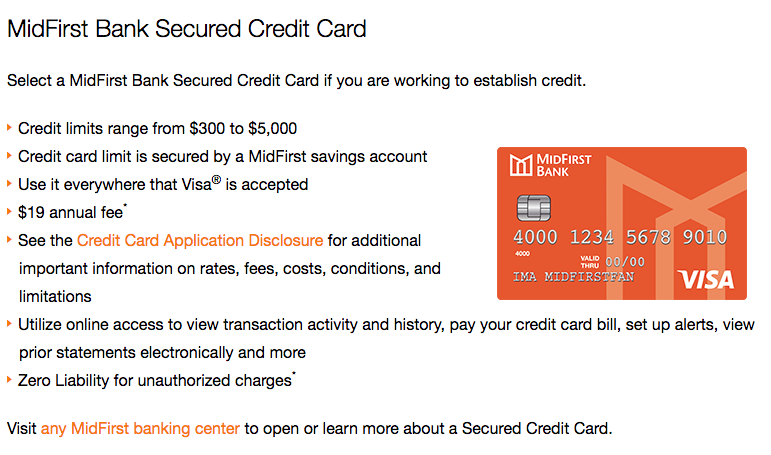 Follow this link to find a MidFirst banking center near you where you can open a MidFirst Bank Secured Credit Card account.