The MidFlorida Visa Platinum Credit Card is by no means a flashy card, full of perks, benefits and rewards. This card will do everything you want, as long as it isn't anything that costs more than $20,000. The APR will be 9.99% (lowest) or up to 18.00% (the rate given to you is based on your creditworthiness and it is subject to change). However, for cash advances and balance transfers the APR will be 4.99% for 36 months (before changing to the regular rates stated above. Otherwise This introductory rate is actually pretty decent if you're planning on making a balance transfer since the introductory APR is valid for 36 months after opening the account. Besides the good APR, the card offers no rewards program or signup bonus, it's just your run of the mill credit card. But maybe that's exactly what you're looking for. If so, please follow our instructions below to apply for your MidFlorida Visa Platinum Credit Card today.
Please read through the privacy policies of MidFlorida Credit Union before entering any personal or financial information.
Requirements
To be capable of applying for this card users must meet the following requirements:
You must be 18 years of age
You must be a US citizen
How to Apply
Step 1 – Find your way to the MidFlorida Visa Platinum Credit Card page, or click on this link to jump right to it. Click on the Apply Online button once the page is loaded to get to the next step.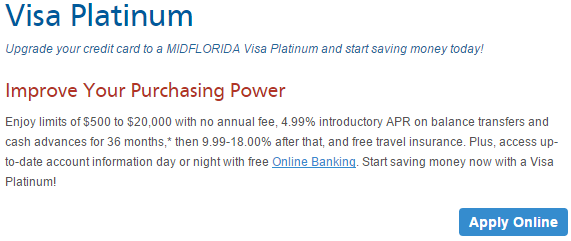 Step 2 – This step has you selecting which application form you are interested in. For the purpose of this tutorial, select Visa Platinum and click Get Started.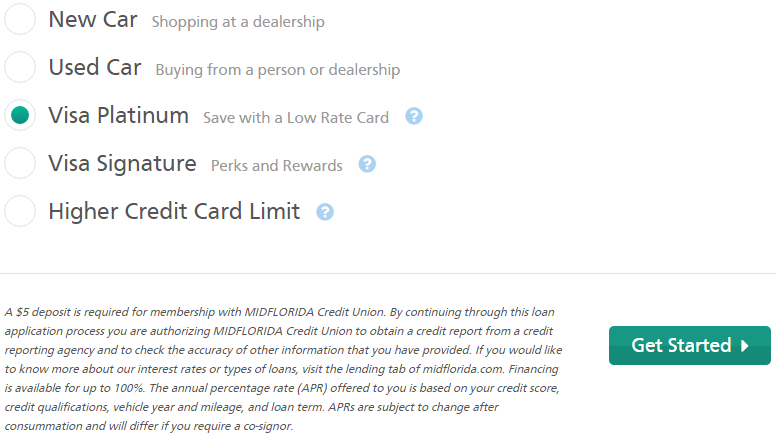 Step 3 – You are advised to read the terms and conditions, as well as the notice on identification verification (as shown below) that they are required by law to disclose. Click Continue once you have read all of this information.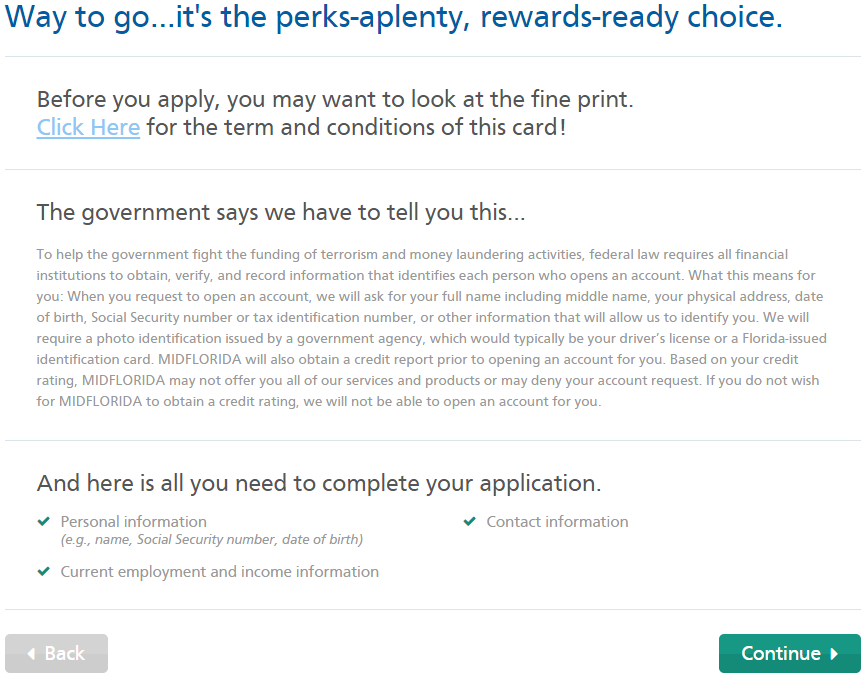 Step 4 – Let's start filling out the forms. Enter the limit amount of your choice (no higher than $20,000) and provide balance transfer information, should that pertain to you.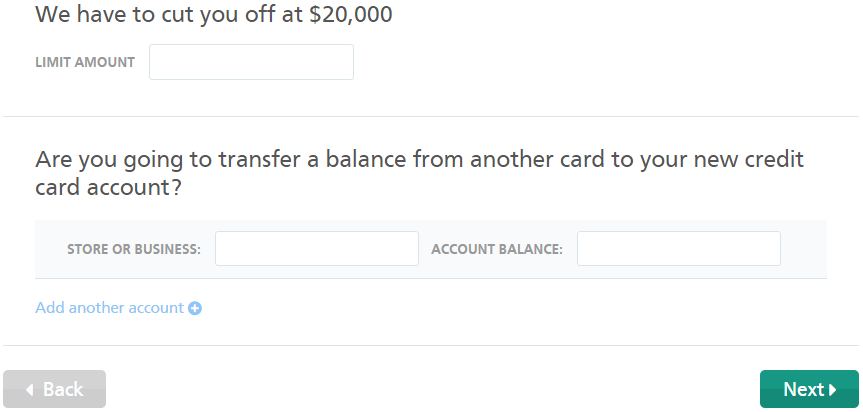 Step 5 – Provide your first, middle and last name, as well as your physical address before clicking Next.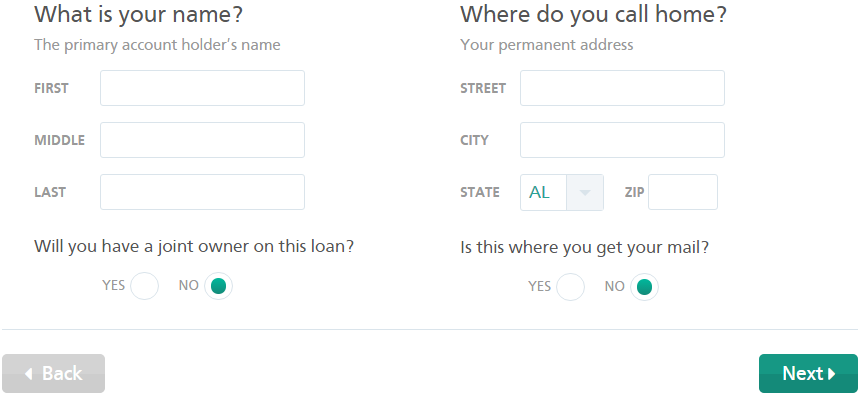 Step 6 – At this juncture you are required to divulge more of your living situation. Select which form of ownership applies to your current situation and how long you have lived at this address.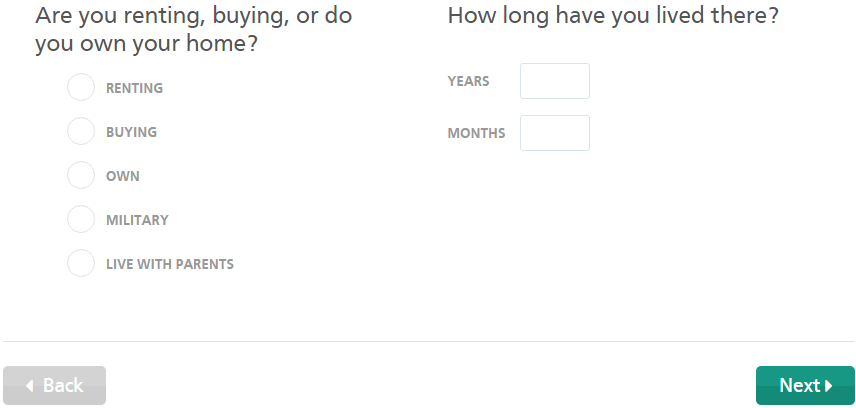 Step 7 – You have to provide them with your phone number(s) and which one would be best to reach you at.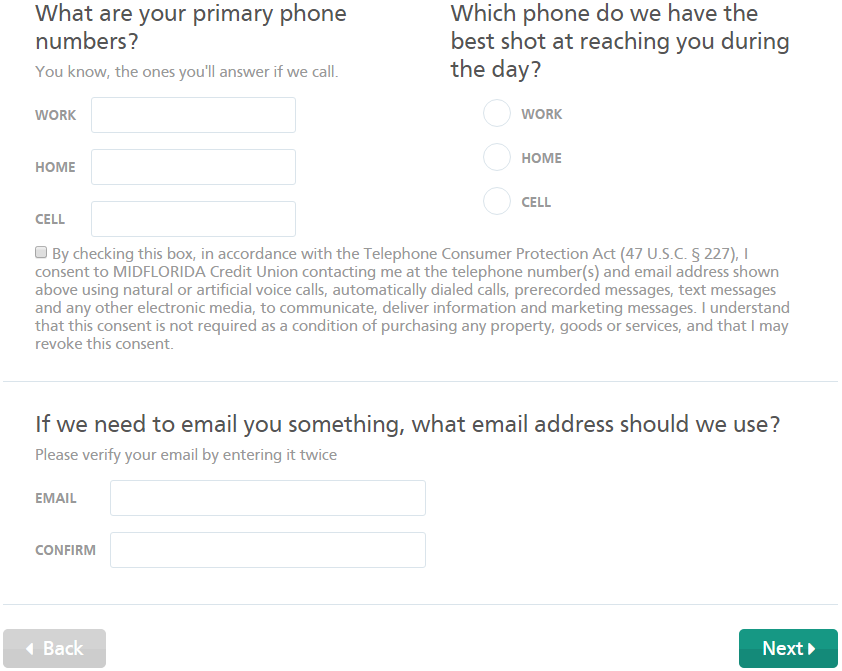 Step 8 – At this step you need to enter your date of birth and social security number.

Step 9 – It's imperative you provide them with your current employment information so they have a better idea of your financial situation. Enter your employment type, employer, position, the address of said employment and how long you have worked there.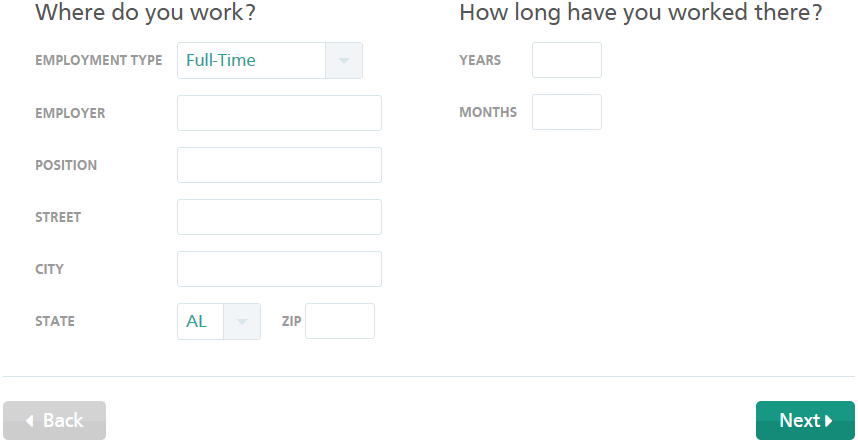 Step 10 – This step falls in the same category as the previous. Enter your monthly earnings as well as any other source of income you receive on a monthly basis.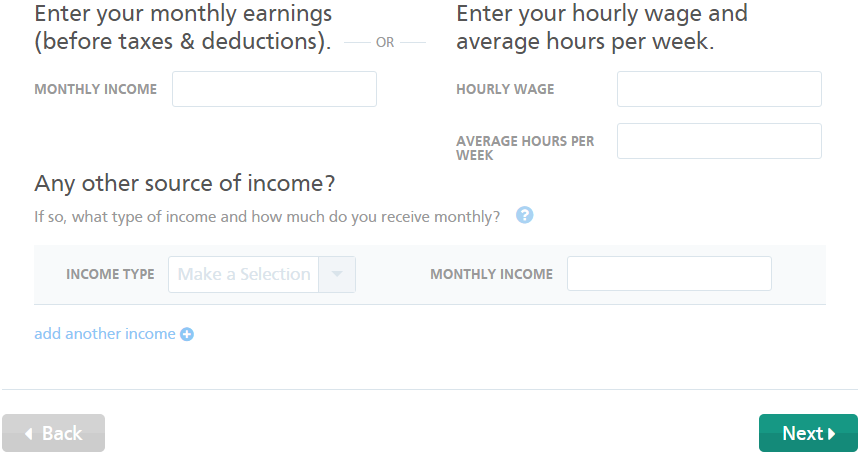 Step 11 – All you have to do now is make sure you don't need to change anything before clicking Submit. We would like to remind you again to read through the terms and conditions, and make sure you agree to them. We hope these instructions have helped you achieve your goal easily and in a timely fashion.