Managing your NEA Cash Rewards Credit Card has never been easier than with the safe and secure online service provided by Bank of America. After activating your card, you will be able to create an account through which you can access the many features provided by this online service. If you would like to review your purchase history, pay off balances or update your personal information, it can all be accomplished in just a few clicks. On this webpage we will go over the steps involved in activating your account as well as those required in logging into the online portal. Scroll down for more information.
Before creating your account, be sure to review the Bank of America privacy policy to learn exactly how your information will be used.
How to Login
In order to log in you will first need to navigate to this webpage. From there, enter your Online ID into the first field and your Passcode into the second. Click Sign In to proceed.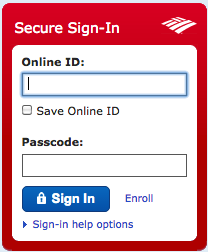 In the event that you have forgotten your online ID or passcode, and are therefore unable to access your online banking, click on the Sign-in help options link located within the main login menu. The following page will ask you to supply your card number, SSN and your passcode or user ID, depending on which of the two you've forgotten.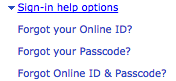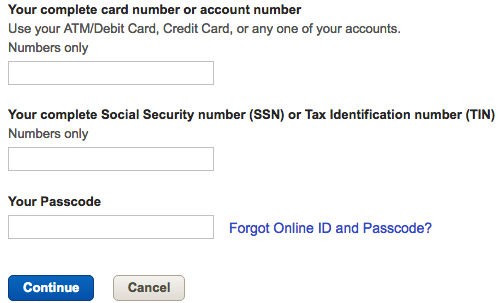 Activation/Registration
You will first need to activate your card by calling the number located above and speaking to a customer service representative. Once activated, click on the secure registration link, also located above, and you will be taken to the online banking page. In the Secure Sign-In menu, click on the Enroll link to proceed.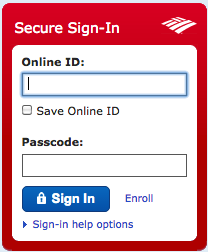 Enter Your complete card number or account number into the first entry field and your SSN into the second. Clicking Continue will take you to the last few stages of the application procedure where you will need to create on online ID and passcode for your account. With all the above information provided, your account should now be ready for your online banking needs.