Did you know that you can easily manage your Houston Astros Cash Rewards Mastercard account online? By enrolling in online banking through the Bank of America (the card-issuing company for all MLB credit cards) you can pay your bills online, view past statements, update your personal info, and much more. On this webpage, we've provided instructions to help you activate a new card, register for online banking, and log into your account. Scroll down and consult our guide to find the information that you're looking for.
Before you continue, take a look at the Bank of America privacy policy to learn how they protect your personal information.
How to Login
To login, go to the Bank of America homepage and locate the Secure Sign-in window. In the provided fields, enter your Online ID and Passcode, and click Sign In to gain access to your account.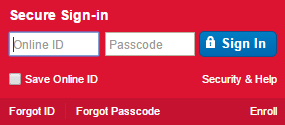 If you can't login because you have forgotten your login information, you will need to retrieve your online ID or reset your passcode. In the sign-in window, find and click the link that applies to your situation, either Forgot ID or Forgot Passcode. On the linked page, enter your complete card number or account number, your complete Social Security number or Tax ID number, and then your Online ID (for a forgotten passcode), or Passcode (for a forgotten ID). Then, click Continue and you will be given the opportunity to regain access to your account (either by retrieving the username or resetting the password).
Activation/Registration
To activate your card, call the Bank of America customer service number provided above. Once your card is activated, you can register for online banking by clicking the Secure registration link found above this paragraph. On the registration page you will need to enter your complete card number or account number and your complete Social Security number or Tax ID number. Click Continue and,on the next page you will need to create a user ID and passcode. When you have finished registering for online banking, you can use your customized login information to log into your online banking portal and manage your account. Best of luck with your new card, and thank you for visiting cardreviews.org.