The NEA Credit Card with Rewards can be managed easily online through Bank of America's secure website. After activating your card, it will be possible to create an account through which you can access the many features available to assist you in your banking. The tutorial below will show you how to register for your account as well as how to log into the online system. You will then be able to use your account to review your previous statements, update your personal information, pay off balances and more. Continue scrolling down to get started!
It is highly recommended that you review Bank of America's privacy policy to get a full understanding of how your personal information will be used.
How to Login
Start by clicking here to access Bank of America's online banking service. Enter your Online ID into the first field and your Passcode into the second and click Sign In to access your account.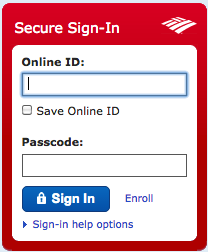 If you forget your password or user ID, click on the Sign-in help options link located within the main login window and select one of the options to retrieve your online ID, passcode or both. The next page will have you supplying your card number, SSN and your passcode/ID (whichever you still remember). If enough information has been supplied, click Continue to retrieve the missing login credential(s).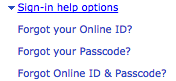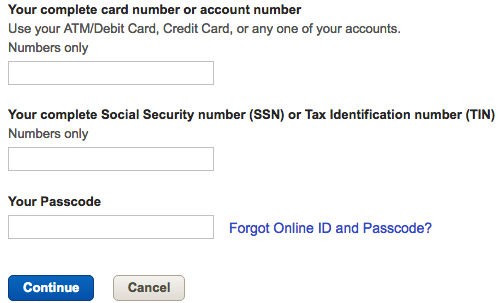 Activation/Registration
You will first need to activate your card before you can register for an online banking account. This process can be accomplished by calling 1 (800) 276 9939 and speaking to a customer service representative. Once your card has been activated, you're going to want to enroll in online banking. Click on the Secure registration link above and, on the page that presents itself, click Enroll.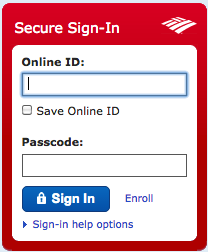 Enter Your complete card number or account number into the first field and your SSN into the second. Click Continue and you will be taken to the next few pages where you will need to create a user ID and passcode to access your account. Once these simple steps have been completed, you will be able to access your online banking account.