The Northeastern University Credit Card comes recommended to anyone looking for a card with decent interest rates and a great rewards program. When making purchases, you can earn a small percentage in cash back. This percentage doubles when buying groceries and triples when purchasing fuel. The APR is dependent on your credit rating and you can expect an interest rate of anywhere from 13.24% to 23.24% (APR is subject to change). As you can see, this card's APR ranges from reasonable to reasonably expensive when compared to other cards on the market. An added bonus though is the 0% introductory APR for the first 12 statement closing dates and no annual fee. While this card is labeled as a Northeastern University credit card, there is in fact no incentives for students or alumni. Regardless, if you're interested in applying for this credit card, you can find all necessary instructions within this webpage. Scroll down to begin.
Bank of America is the financial institution which has issued this credit card. Take a moment to review their privacy policy before submitting any sensitive information.
Requirements
Be sure that you meet the following requirements before proceeding.
You are at least 18 years of age
You are at least 21 years of age if you are a permanent resident of Puerto Rico
You reside in the United States
You have a valid SSN
How to Apply
Step 1- To begin the registration process, navigate to this webpage. Once accessed, locate the About you section and submit the following information into the provided fields:
Full name
Phone number
E-mail address
Physical residence
City
State
Zip code
Country of residence
Would you like your statements sent to a different address? (y/n)
Housing status
Monthly housing payment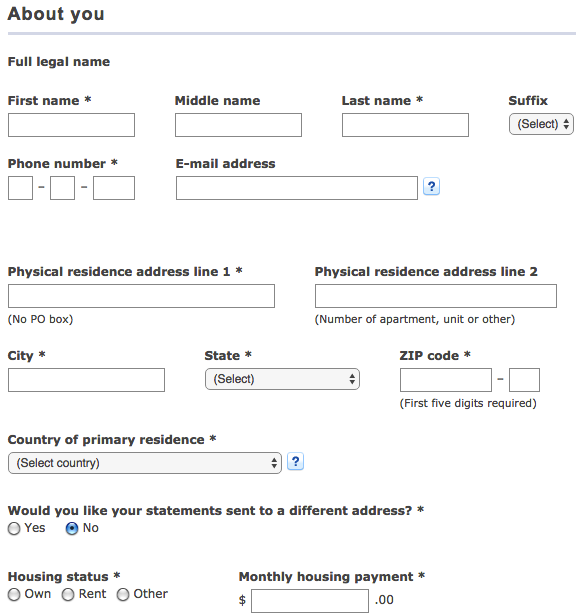 Step 2- Next, supply your SSN, Date of birth and your Mother's maiden name. Use the drop-down menu to specify your country of citizenship and check the small bubble to indicate your citizenship status.
Step 3- Here you will need to supply your employment information. Start by using the drop-down menu to specify your Employment Status. Continue by entering your Company name or employer and specify your Years in occupation, Occupation and Work phone number.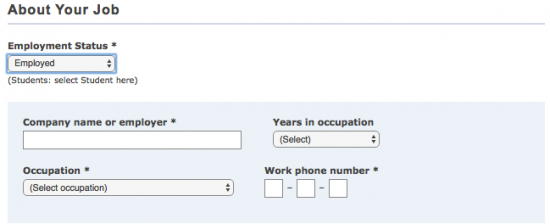 Step 4- At this juncture you will need to enter your Total annual income and specify your Source of income.

Step 5- This portion of the application procedure allows you to consolidate your previous balances into one bill and/or add an additional cardholder.

Step 6- It is highly recommended that you read Bank of America's terms and conditions to familiarize yourself with the consequences of applying for and using this credit card. When you're confident that you're ready to commit, click Continue.

Step 7- At the bottom of the next page, you will see a small bubble that must be checked. Clicking this bubble will indicate your consent to Bank of America's terms and conditions. Lastly, click Submit Application to conclude this process. Your application will be reviewed by Bank of America and you should receive confirmation shortly.

That's all there is to it. We hope that this tutorial has provided sufficient information to assist you during the application process. Good luck and take care!