The Pulaski Bank Visa Business Rewards and Rewards PLUS Cards are good options for business owners looking for a credit card with Pulaski Bank that has a reward points program. Both cards offer the same basic rewards program of 1 point per dollar spent, however, the standard rewards card, at the end of each month, supplies it's users with a 25% bonus on all points accumulated over the course of the previous billing cycle. If that's not enough for you, the rewards PLUS card provides a bonus of 50%. With either card, users will get an introductory APR of 0% for the first 6 months after which their APR will be 12.24% to 23.24% depending on their credit score (APR is subject to change). For the increased rewards, Rewards PLUS cardholders pay a $50 annual fee, whereas Pulaski Bank Visa Business Rewards Card carries no annual fee. For people interested in applying online for the Pulaski Bank Visa Business Rewards/Rewards PLUS Card, we have provided a helpful guide below.
The card-handler for this particular credit option is Elan Financial Services; it would be wise to review their privacy policy to ensure you're comfortable with the manner in which they plan on using your personal and financial information.
Requirements
The following must apply in order for you to be eligible for either credit card:
You must be 18 years of age
You must be a US citizen
You must have a SSN
You must have a business tax ID
How to Apply
Step 1- To start a secure application, go to this page, scroll down to the Visa Business Bonus Rewards Card and Visa Business Bonus Rewards PLUS Card, and click Apply Now beneath the card you want to apply for.

Step 2- Once on the credit card application page, provide the following required information detailed below in the Business Information section:
Business name to appear on cards
Name of business
Business tax ID
Street address
City
State
ZIP code
Years at address
Year business started
Business phone #
Gross annual sales
Organization type
Nature of business
Type of industry
Country of origin
Number of countries with offices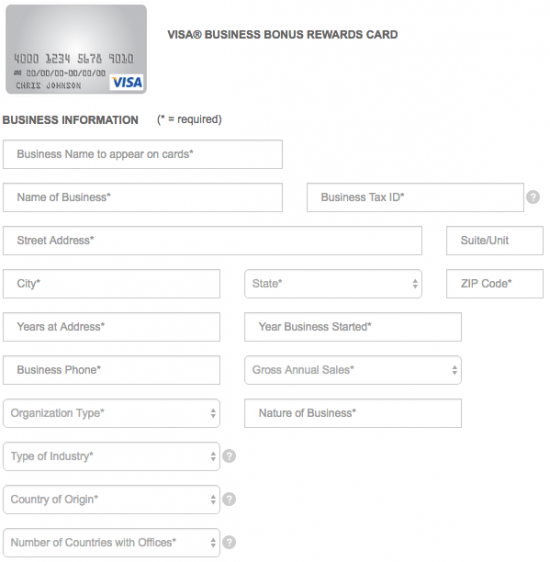 Step 3- When you have completed the Business Information section, select whether or not you want to enroll in cash access and indicate any existing Pulaski Bank accounts you have by selecting Yes.

Step 4- As the Business Owner, you will need to enter all of the following information as itemized below:
Business owner type
First name
Last name
SSN
Date of birth
Phone number
Email address
Home street address
City
State
ZIP code
Alternate mailing address
Annual income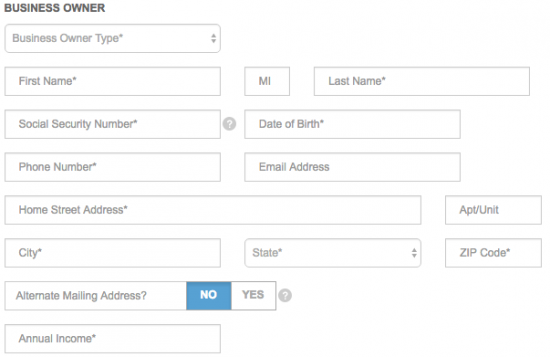 Step 5- Finally, select Yes or No to indicate whether you would like to perform a balance transfer or Add Employee Cards.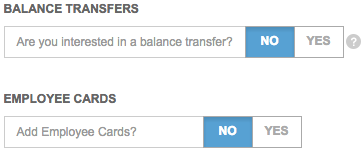 Step 6- Before submitting this application, review and agree to the the Visa Business Bonus Rewards Terms and Conditions or Rewards PLUS Terms and Conditions (depending on which card you are applying for). When this and all the other steps are complete, click the Submit link.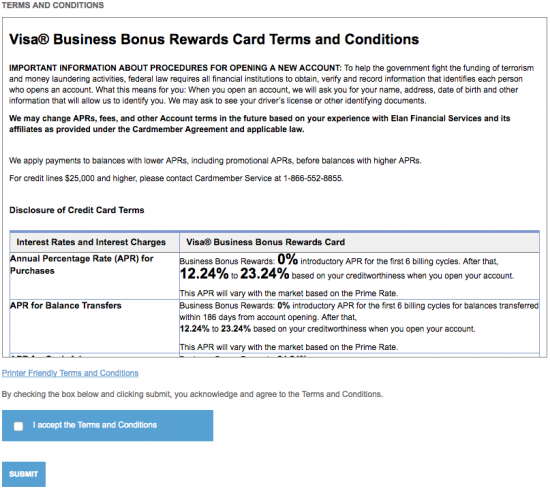 Your application has been submitted for approval! You should soon receive confirmation message from EFS. Best of luck from all of us here at cardreviews.org!