In this day and age, it's difficult to reach financial freedom, to own a home and provide for your family while still taking the time to enjoy life's luxuries and splendors. Pulaski Bank has been around since 1922, helping people reach their financial and business-building goals. Two of the credit cards offered by this institution, the Pulaski Bank Visa Bonus Rewards and Bonus Rewards PLUS Credit Cards, are good options for those of you looking for a card with a solid APR and a decent rewards program. They both offer rewards programs that earn the user 1 point for every $1 spent. The main difference between them is the Pulaski Bank Visa Bonus Rewards Credit Card rewards cardholders with a 25% bonus on all points earned every month, whereas the Bonus Rewards PLUS Credit Card hands out a 50% bonus. The latter will cost you $50 annually though, and the regular rewards card has no annual fee. How the point system works is you can redeem them for cash back, merchandise, travel or gift cards anytime you want, or, you can keep racking them up (for as long as 5 years). Both cards extend an APR of 12.24%, but only for those with excellent creditworthiness, otherwise it can be as high as 23.24% (APR is subject to change). Should you be interested in either the Pulaski Bank Visa Bonus Rewards or Bonus Rewards PLUS Credit Cards, take a look at our instructions below to learn how to apply for them.
Please take a moment to review the privacy policy provided by Elan Financial Services (the card-issuing company) to gain a better understanding of their information sharing policies.
Requirements
In order to qualify for this particular card, you must meet the following conditions:
Applicants must be 18 years of age or older
Applicants must have a valid U.S. address
Applicants must have a valid social security number
How to Apply
Step 1 – Pulaski Bank uses Elan Financial Services (EFS) to handle their credit cards so you need to get to the EFS Pulaski Bank credit card webpage in order to begin the application process. On the page is a list of credit cards offered by Pulaski Bank. Click on the Apply Now link below the card you want to apply for.

Step 2 – Start filling out the form at this step, starting with the following personal information:
Name
Date of birth
Social security number
Country of citizenship (if you're citizen of another country you must select Yes and enter it as well)
Country of permanent residence
Phone number
Email address (optional)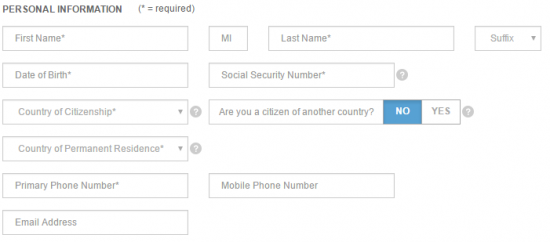 Step 3 – You will need to provide some information on your current dwelling, this includes your street address, time spent at this address, housing status and monthly payment. If you have an alternate mailing address, you need to select YES and enter this address.

Step 4 – At this step, you are required to enter income and employment information. This includes the following pieces of data:
Employment status
Employer
Occupation
Annual income
Other income
Information on any existing accounts you have with Pulaski Bank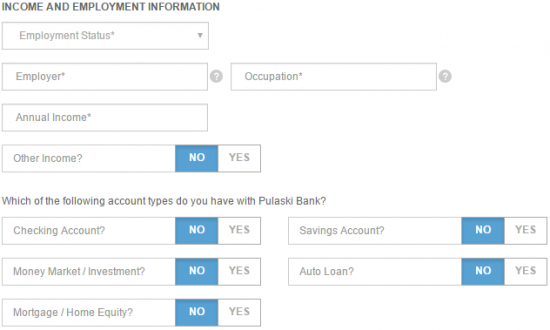 Step 5 – At this juncture, you may choose to make a balance transfer. Select YES if you wish to do so, then enter the appropriate information. You also have the option to add an additional cardholder to the account. Select YES next to Add Authorized User? and enter their information.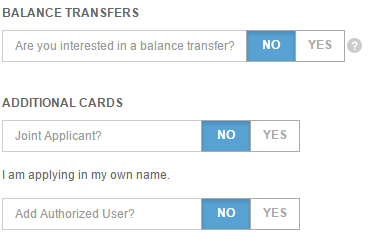 Step 6 – That's all the information required of you, now it's time to read through the terms and conditions. Once you've done that, tick the box next to I accept the Terms and Conditions and click Submit. Your application will now be submitted for approval. We hope this tutorial has helped make this process a bit easier for you. Good luck!