If you're a member of the REI Co-op and you're interested in acquiring a new credit card, the REI MasterCard is certainly a viable option. This credit card comes packed with a number of features that can save you money on a variety of REI products. After making your first purchase within 60 days of activation, you will receive a $100 gift certificate which you can use online or at any one of the many REI locations found all across the United States. The cash back rewards program will provide you with 5% back on all REI qualifying purchases, 2% back on groceries, and 1% back everywhere else. As far as interest rates go, you can expect your APR for net purchases and balances transfers to be somewhere between 11.24% to 23.24%, depending on your credit worthiness (APR is subject to change). All in all, this is a decent credit card that comes highly recommended to those who frequently shop at REI, either in person or online. If you're interested in applying for this credit card, scroll down to our tutorial below where we've provided step by step instructions on the application procedure. Best of luck!
Take a moment to review US Bank's privacy policy to get a full understanding of how your personal information will be used.
Requirements
Make sure you meet the following requirements before proceeding:
You are at least 18 years of age
You are a REI member
You have a valid SSN
How to Apply
Step 1- Click here to begin the application process for the REI MasterCard. On the REI application page, scroll down to about the middle of the page and click on the Apply Now link to proceed.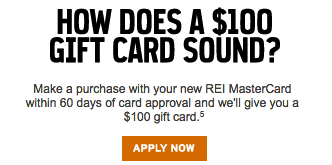 Step 2- On the application page, under Personal Information, the following details must be specified:
REI member number
First name
Last name
Date of birth
SSN
County of citizenship
Specify whether or not you are a citizen of another country
Country of permanent residence
Primary phone number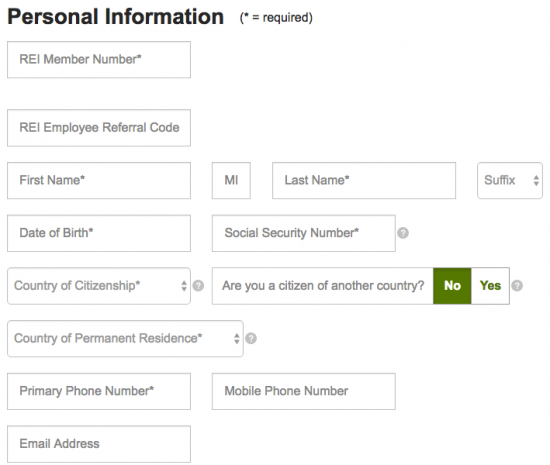 Step 3- Under Housing Information, supply your Street Address, City, State, and ZIP Code. Below that, indicate your Time at Address (years and months), Housing Status, Monthly Housing Payment, and specify whether or not you have an alternate mailing address by selecting Yes or No.

Step 4- Here you are asked to provide your Income and Employment Information. Use the drop-down menu to specify your employment status and, if you are employed, enter-in your Employer name, current Occupation, and the Length of Employment. Below that, supply your Work Phone Number, Annual Income, and specify whether or not you have another source of income by selecting Yes or No.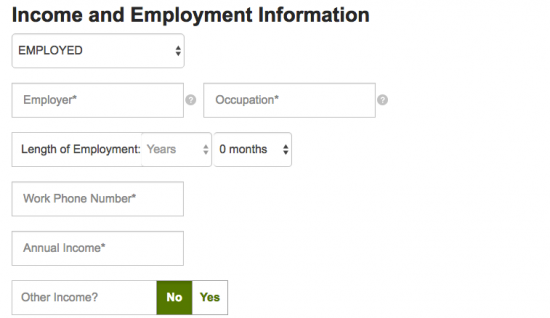 Step 5- Continue by specifying whether or not you have a Checking Account or a Savings Account by selecting Yes or No.

Step 6- At this point in the application process, you have the ability to consolidate your previous balances on other cards by performing a balance transfer. You may also elect to apply with a joint applicant or, if you are applying under your own name, you may add an authorized user.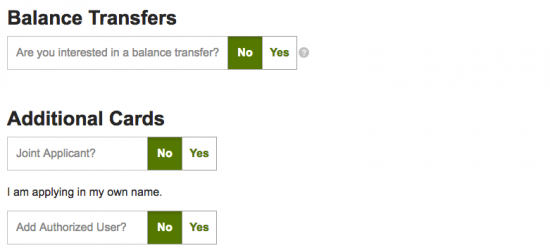 Step 7- You should see US Bank's terms and conditions at the bottom of the page. Read this document over carefully and, if you agree with the terms, check the I accept the Terms and Conditions box to indicate your compliance. When you are ready to proceed, click Submit to have your application sent in to US Bank for assessment. Confirmation should be received shortly regarding the approval of your card request.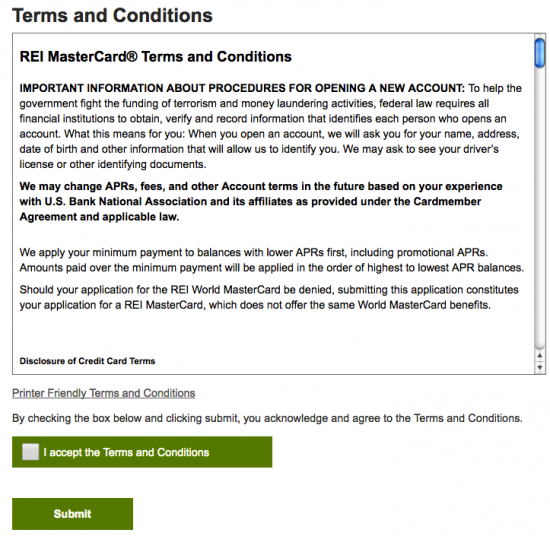 We hope this tutorial was beneficial in your attempt to apply for the REI MasterCard. Thank you for choosing Card Reviews and best of luck with your new card!