Cardholders of the Santander Bank Bravo Credit Card can easily manage their account online through Santander Bank's online banking portal. By logging into their account online, they can easily view their rewards, pay their bills, and update their information. If you have not yet registered for an online banking account with Santander Bank, you will need to do so before you can take advantage of these account management tools. Below you will find a guide to logging into the Santander Bank online portal, as well as one on activating a new credit card and registering for an online banking account. Scroll down to consult our simple guide.
Before you continue, we recommend that you read the Santander Bank privacy policy to see more how they use your personal and financial information.
How to Login
To access your online account, go to the Santander Bank webpage and select the Login button found in the upper right-hand corner. Select Consumer Credit Card from the drop-down menu and click ok to continue.

You should now see the window pictured below. Enter your User ID in the indicated space and click Submit to continue to the next step.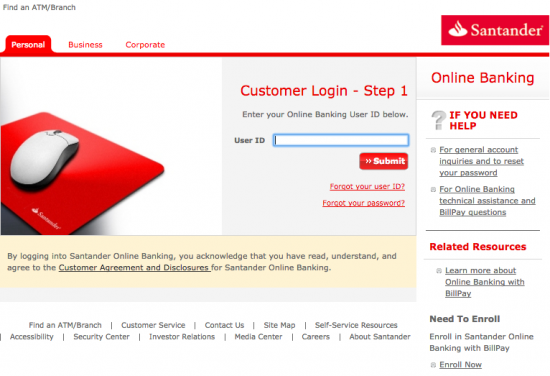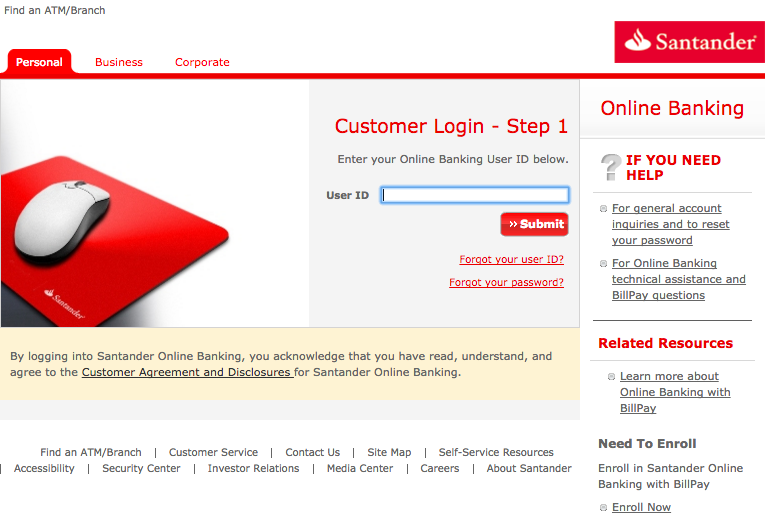 Next, you must provide the answer to a security question. Enter your correct answer in the indicated blank space and click Submit to continue. You will then be asked to provide your password to be granted access to your account.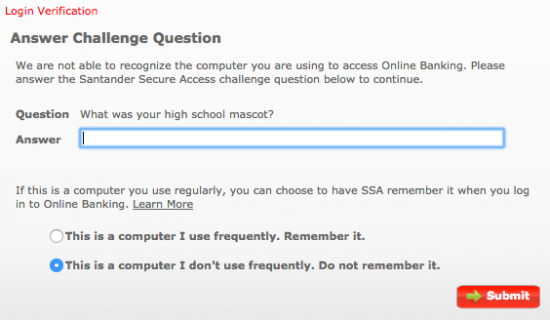 If you have forgotten your user ID, click the Forgot your user ID? link (located in the login window). You will need to provide your Social Security Number and Date of Birth in the user ID retrieval page. Next, click Continue, and in the steps that follow you will be able to retrieve your user ID and regain access to your online account.

If you happen to forget your password, you will need to reset it by clicking the Forgot your password? link, providing your User ID and Date of Birth in the password reset page, and selecting Continue. On the subsequent pages, by following the instructions you will be able to reset your password.

Activation/Registration
Call the above customer service number to activate your new card with the assistance of a Santander Bank representative. Once your credit card is activated, you can choose to register for online banking by clicking the Secure registration link found above. Next, on the linked page, you'll need to select ATM/Debit or Credit Card from the drop-down menu and enter you Credit Card Number. Enter the information listed below into the Identification Information section and click Continue.
Last 4 digits of SSN
ZIP code
Email address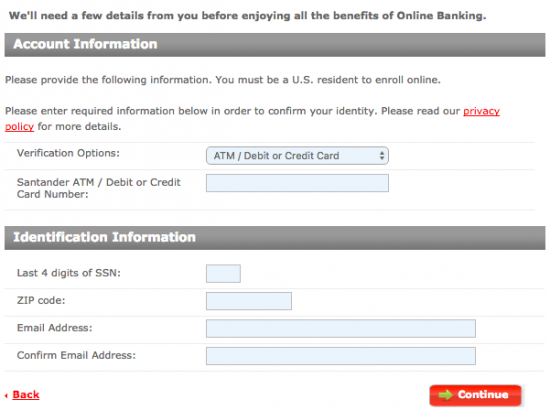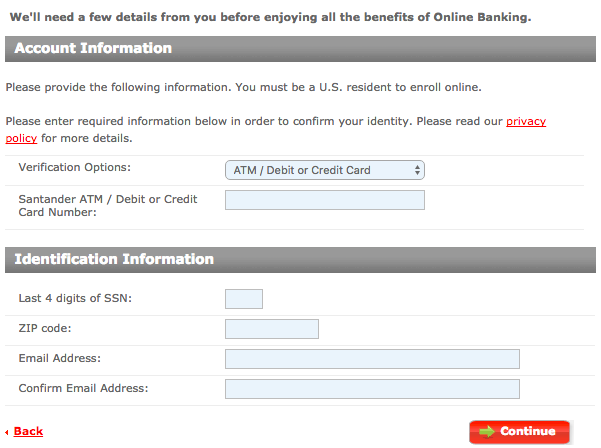 To complete the registration process, you will need to create your login credentials in the subsequent windows. Once you're done, you will be able to access this online banking account anytime, allowing you to properly manage your newly activated credit card!