Cardholders of the Southwest Rapid Rewards Visa Credit Card must login to their customer portal, operated by Chase, in order to pay bills, view statements, change their profile information, or alter their account in any way. Logging in is a quick process which we have outlined below.
How to Login
In order to login the cardholder must visit this webpage and enter his/her User ID and Password, at which point he/she will gain access to the cardholder portal.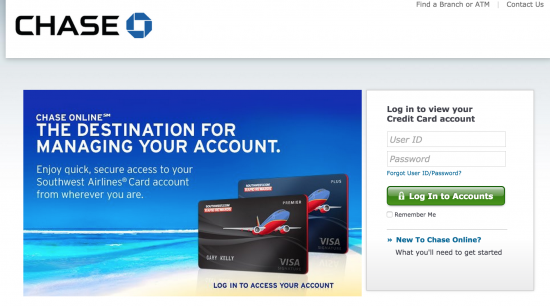 Incase the cardholder has lost or forgotten either the User ID or the password to his/her account, Chase has provided a link just below the login fields which, upon clicking, will direct the cardholder to a simple form which will aid Chase in retrieving the lost or forgotten information.

It is a 4-step process involving Identification, User ID retrieval, and ID Code (provided), and finally a password reset. The first page will first require the cardholder to enter his/her full Social Security number and then his/her credit card number. Other options are provided if the default fields do not apply to the cardholder.
Activate
In order to activate a Southwest Rapid Rewards Visa Credit Card the cardholder must complete a series of forms provided by Chase. There are six steps the cardholder must complete: Identification, Identification Code, Password, Legal Agreements, Services, and Confirmation (pictured below)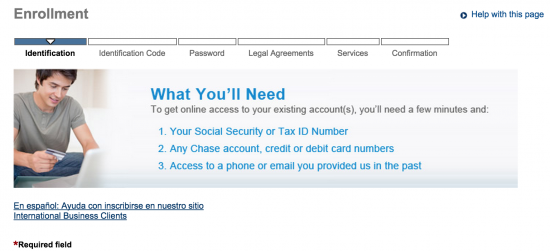 The first phase, Identification, requires the cardholder to enter the following pieces of information:
Chase Credit Card Number
Social Security Number
Chosen User ID (created new for this page)
Once this information has been entered the cardholder can click 'next' to continue on with the process until the activation and account creation is completed.