The Toys R Us Credit Card is a great card for those who are frequent shoppers at either Toys R Us or Babies R Us. This card comes with a $0 annual fee and the ability to earn reward points, redeemable for gift cards, everywhere that your credit card is accepted. While the interest rate of 26.99% APR for purchases is below average, individuals who use this card wisely will be able to see great returns on their purchases made. If you are looking to complete the application guide as quickly and painlessly as possible, scroll down this page and follow our step-by-step guide.
Before you continue on to the application, take a moment to read the online privacy policy. Doing so will inform you of how your personal information is going to be handled throughout the application process.
Requirements
In order for the application process to be completed successfully, the following requirements must be met:
You must not have any seriously delinquent accounts
Your credit history must be free of bankruptcies
You are at least 18 years of age
You can provide a valid Social Security number
How to Apply
Step 1: Navigate to the application homepage, pictured below, to begin the application process. The welcome screen describes in detail some of the various perks associated with being a Toys R Us credit card holder. It also compares the card to their basic Rewards R Us program, which is a free loyalty program available to all shoppers. If you've read the chart and want to apply, click the blue Apply Now button to begin the application.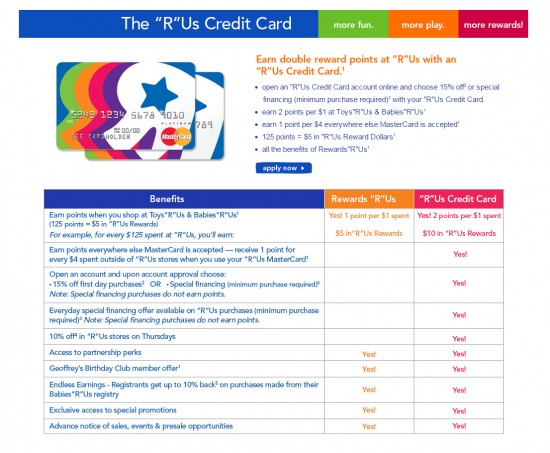 Step 2: This screen asks if you are already a Rewards R Us member. If you already have enrolled in this program, click Yes and enter your details. If not, click No, Please Enroll Me in Rewards to proceed with the application.
Step 3: Enter your full legal name, street address, phone number, email, and net annual income. Provide the length of time you've lived at your current address and whether you own, rent, or live with relatives.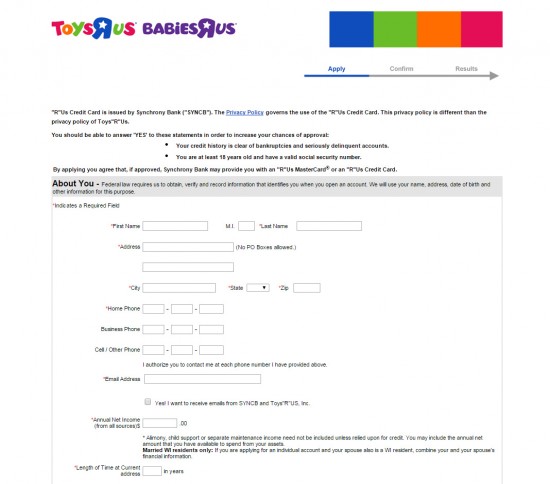 Step 4: Select how you would prefer to receive your credit card statements: as paper copies in the mail or through electronic delivery. Verify your identity with your date of birth, Social Security number, driver's license number, and mother's maiden name. Review the details for the optional Card Security program, which cancels balances of up to $10,000 if you meet certain conditions.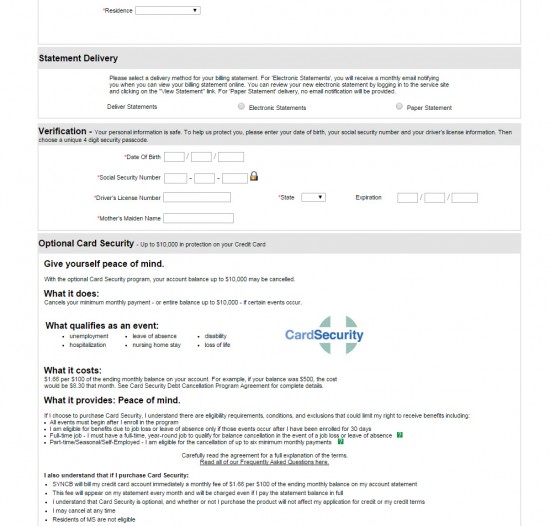 Step 5 – Check the Yes box if you want to enroll in this service, keeping in mind that there is a monthly fee of $1.66 per $100 of the ending monthly balance on your account statement to participate. Review the general terms and conditions for the account, printing or downloading a copy for your records. Check the "I agree" box, then click on the Accept and Submit button to process your application. If you've changed your mind about applying, click on the Cancel button to withdraw your credit application.