The Blue Cash Everyday Credit Card, one of American Express's many card options, touts a cash back program that trumps almost all of their other offers. As opposed to receiving redeemable rewards points, sometimes at the hands of a third party, Amex transfers the savings right to you with a 3%, 2%, 1% back split seen on only the best cash back cards. The APRs and fees are standard, albeit high (21.99% APR) for Amex. If you are interested in applying for this credit card please continue down the page to find our official application guide.
Ensure that you are familiar with Amex's Online Privacy Policy before embarking on the application. It is essential to always be aware of how your information is being handled when submitting it online.
How to Apply
The secure application form can be found on the Amex card summary page (shown below) in which they detail the rewards structure of the Blue Cash Everyday card. In order to access the application simply select the blue Apply Now link.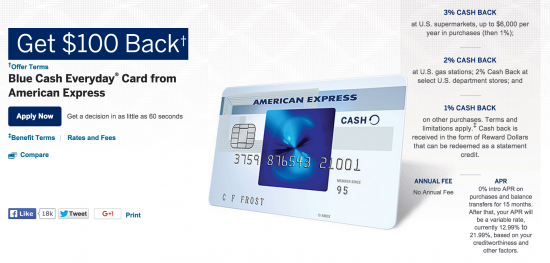 Step 1- Personal Information
Enter the following personal information here:
Full name
Name on card
Email address
SSN
Date of birth
Phone number
Home address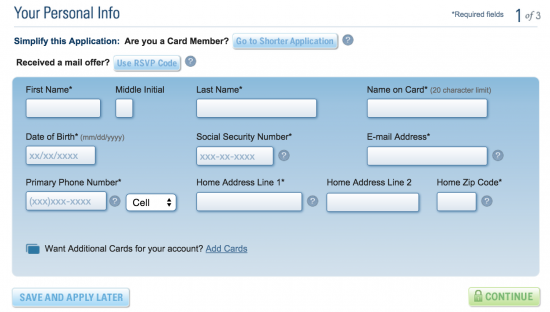 At this point you are able to add additional cardholders should you like to do so. The primary account holder will ultimately be culpable for all bills and fees associated with the account.
Step 2- Financial Information 
Amex will require some basic financial information in order to asses your creditworthiness. Enter the following financial information into the provided fields:
Employer name
Employer city/state
Employer phone number
Income source
Total annual income
Bank accounts held
Housing status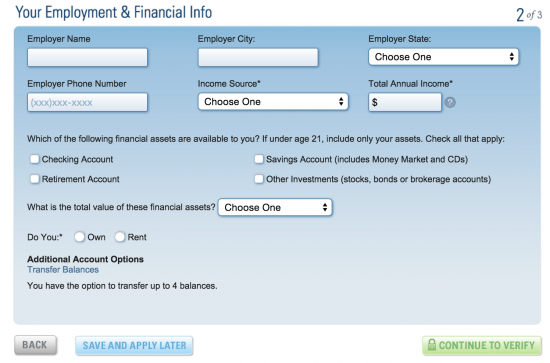 Amex allows new cardholders to perform balances transfers should they choose to do so. You may perform up to 4 at this time by entering some basic information regarding the cards you desire to transfer balances from.
Step 3- Terms and Conditions
Amex unfortunately does not afford you the opportunity to review the terms and conditions before submitting your application (though they are available from the card summary page), so we have hosted them here for your convenience.  If you approve of the terms and conditions then submit and await your evaluation from Amex.