The Amex Gold Credit Card is a kind of anomaly in the credit card world. It has a generous points-based rewards program, but also a strange policy where the balance must be payed down each month, thus the card has no APRs for cash withdrawals, balance transfers, or general purchases. For those interested in such a unique contract we have created a simple application guide, located below, to facilitate the application process for potential cardholders.
Applicants, please familiarize yourself with the Amex Online Privacy Policy to ensure that your information is being handled properly once submitted.
How to Apply
The secure application page is available directly from the Amex card summary page. This is a page designed to advertise and break down the cards basic features. The application can be access by selecting the blue apply now link.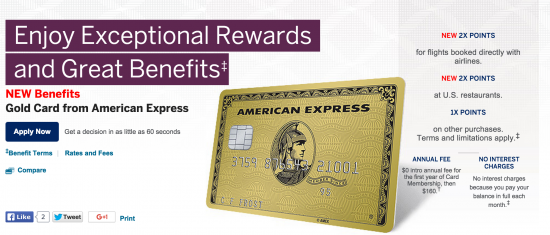 Step 1- Personal Information
Enter the following personal information once you have accessed the form:
Full name
Name on card
Email address
SSN
Date of birth
Phone number
Home address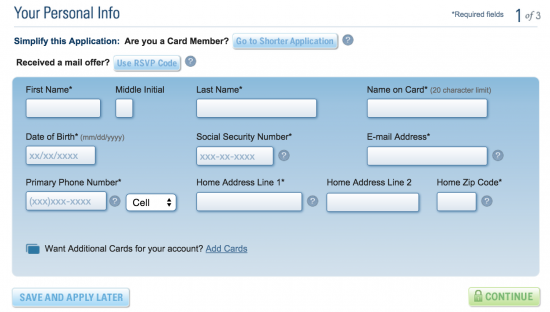 If you would like, you can add additional cardholders to the account. Keep in mind that as the primary account holder you will ultimately be responsible for all bills and fees.
Step 2- Financial Information 
Help Amex create a financial profile for you by submitting the following information into the provided fields:
Employer name
Employer city/state
Employer phone number
Income source
Total annual income
Bank accounts held
Housing status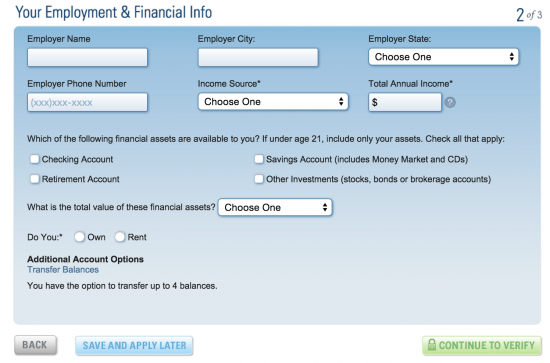 If you would like to transfer a balance (up to 4) from a pre-existing credit account you may do so at this juncture in the application. Simply select the Transfer Balances link and enter some basic information regarding the card you wish to transfer from.
Step 3- Terms and Conditions
Review the terms and conditions here. If you approve of these disclosures and you are confident that the information you've entered in the preceding forms is correct, submit your application and await a decision from Amex regarding your creditworthiness.