Cardholders of the AARP Credit Card have the ability to create an online banking account to better manage their finances. By logging into an account from any computer, tablet, or mobile device, it will be possible to review e-statements, transfer funds, pay bills, and oversee virtually all aspects of card management. If you have yet to activate your card, you will find instructions on this process, as well as instructions on how to enroll in online banking, towards the bottom of this page. Scroll down to the segment just below this paragraph to find out how you can log in once your account has been created.
Take a moment to review Chase Bank's privacy policy to see how the personal information you supply will be used.
How to Login
Begin by navigating to this webpage where you should see the login menu on the right side of your screen. In the two empty fields, supply your User ID and your Password. After providing your login credentials, click Log In to Accounts to access your personalized online account with Chase Bank.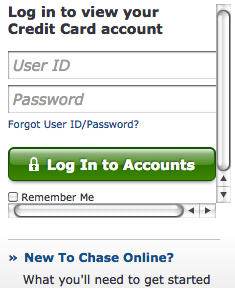 If you have forgotten the user ID or password to your account and are thus unable to login, click on the Forgot User ID/Password? link located below the login fields on the online banking homepage. There are multiple options available through which you can retrieve your login credentials. With the first two options, you must supply either your Social Security Number or your Tax ID Number followed by Your Chase ATM/debit or Chase credit card number, Your Chase commercial loan account number, or Any other Chase account number. After supplying the requisite information, click Next to proceed and follow the instructions found on the subsequent pages to retrieve your forgotten user ID or password.


If you are an authorized business person, you can retrieve your login credentials by supplying your Email address and your Security Code. Once your information has been entered, click Next to continue. Follow the directions provided on the subsequent pages to retrieve your user ID or password.


For those who have pending applications with Chase Bank, it is possible to retrieve your login identification by supplying your Email address and ID Number. Click Next and you will be presented with the ability to retrieve your forgotten user ID or password.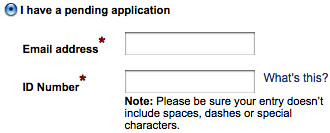 Activation/Registration
You can activate your credit card by calling the number located above this paragraph and following the directions provided by an individual in customer service and/or the automated messaging system. With your card activated, you may proceed to enroll in an online banking account by clicking on the Secure registration link located above this paragraph. On the enrollment page, supply your Chase account, credit or debit card number and your Social Security Number. In the bottommost field, enter the User ID that you would like to use for your account. Click Next when you are ready to proceed. The subsequent pages will have you setting up your security info by deciding on a password. After this process is complete, your online account will be ready for use and you can take full advantage of the financial management tools available on Chase Bank's online portal. Happy banking!